GOLD PRICES held tight below last week's finish in London trade Wednesday, moving around $1195 per ounce as Asian stock markets fell again but European shares gained ahead of tomorrow's policy decisions from the Eurozone and UK central banks – both expected to deliver "no change".
Global oil prices rose, with
energy traders pointing to both
the loss of supply from Iran following new US sanctions over Tehran's nuclear research program and to Hurricane Florence, now approaching the US east coast and set to make landfall at 'Category 4' in North Carolina on Thursday.
Brent crude oil neared $80 and US benchmark WTI rose near $70 per barrel.
Still 5% below July's 3.5-year highs, that squashed the Gold/WTI ratio of bullion to barrels down near 17, only a little above the 4-year low in gold relative to crude oil hit this summer.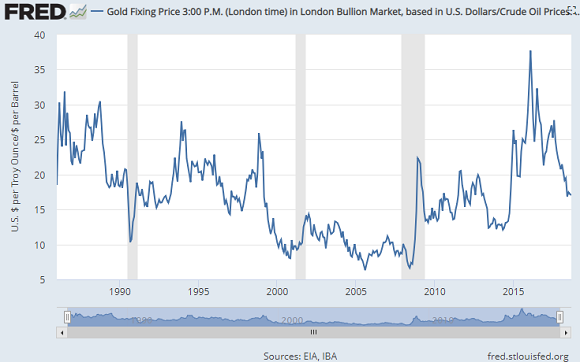 "It is
absurd that Europe pays
for 80% of its energy import bill, worth €300bn a year, in US Dollars when only roughly 2% of our energy imports come from the United States," said out-going European Commission president Jean-Claude Juncker in his final 'state of the union' speech to lawmakers in Strasbourg today.
Also vowing to boost EU border patrols against illegal migrants, Juncker said he wants "to strengthen the international role of the Euro…[making it] the active instrument of a new and more sovereign Europe.
"There is strong demand for Europe throughout the world," Juncker also claimed.
"To meet such high demand, Europe will have to speak with one voice on the world stage."
Members of the European Parliament meantime voted 448 to 197 on Wednesday in favor of Article 7 procedures against member state Hungary, accusing Budapest's prime minister Viktor Orban of breaching EU values.
The Euro rose but struggled to get back above $1.16 to the Dollar, holding gold prices for Eurozone investors at €1030 per ounce.
Silver meantime held flat around $14.12 after recorded its lowest London benchmark price yesterday since
the "anti-arb" flash crash of late January 2016
, when the auction process fixed at $13.58 – some 80 cents below spot-market quotes – on a lack of buyers to balance with sellers.
Tuesday's brief plunge beneath $14 put
the Gold/Silver Ratio
of the two metals' prices relative to each other just shy of a 25-year high, breaking above 85 ounces of silver per 1 ounce of gold for the first time since March 1995.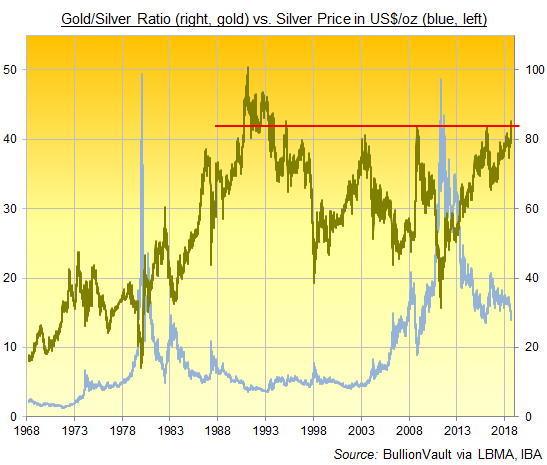 "China [is] again showing little demand" despite the drop in gold prices, says one Asian trading desk.
"There is some selling pressure on the Renminbi, which is affecting gold," agrees Ronald Leung at Hong Kong traders Lee Cheong Gold Dealers.
Weaker silver prices have seen investor demand for exposure through the iShares Silver Trust (NYSEArca:SLV) grow that exchange-traded fund to a 14-month high, needing over 10,377 tonnes of backing.
Gold's 3-month price drop of $100 in contrast has seen the giant SPDR Gold Trust (NYSEArca:GLD) shrink by more than 10%, ending Tuesday with backing of 745 tonnes, the lowest since February 2016.
On the political front Wednesday, Russian president Vladimir Putin claimed that the two suspects wanted by UK police over the attempted murder of a former KGB spy in Salisbury this spring are civilians and who will "soon" give their version of events.
Pro-Brexit Conservative MPs – who now show "no dissent" on wanting to oust Prime Minister Theresa May – meantime said an "invisible" border between Northern Ireland and the Republic could exist post-Brexit thanks to "existing" technology for customs checks and VAT sales-tax payments.