GOLD PRICES rallied but held on track for the lowest weekly finish since January 2017 in US Dollar terms on Friday, rising only $3 per ounce $1184 as world stock markets fell amid new fears over Italy's growing public debt.
Silver in contrast spiked to $14.50 per ounce, back near Monday's 4-week high versus the Dollar, while platinum prices trimmed their loss for the week to 1.4% at $816.
"Worth noting the
Chinese holiday next week
," says a trading note from finance and refining group MKS Pamp, "which will remove physical interest from the [gold] market during Asian hours."
With the Chinese Yuan falling today near August's 20-month low versus the Dollar, Chinese flight bookings to the United States for next week's National Day holidays are
down 42% from last year
, the
South China Morning Post
reports, also blaming the worsening trade-war and political tensions between the world's two largest economies,
This summer's rise in the Dollar, topped by this week's hike to US interest rates from the Federal Reserve, has now erased the last of gold's outperformance in Dollar terms compared to other currencies since Donald Trump entered the White House in January 2017.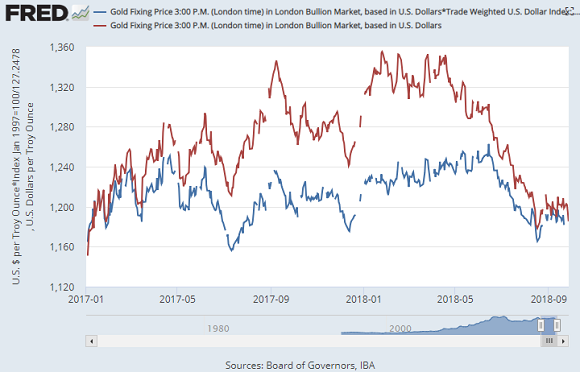 Italy's coalition government meantime confirmed its 2019 budget plans Friday with
a breach of the 'Tria Line'
for Rome's budget deficit at 2.4% of GDP.
Eurozone stock markets lost 1.8% on average as Italy's MIB index fell 4.2%, led by a slump in Milan's banking sector.
"For the good of the country
I will not resign
," said Finance Minister Giovanni Tria after accepting the 'anti-austerity' demands of left-wing M5s politicians.
"[But] we should be careful," he warned
earlier this week
, "because sometimes if you ask [the bond market] for too much, then you have to pay higher interest rates, and what you gain, you lose in interest."
Ruling UK party the Conservatives meantime won their first council seat in the English Midlands city of
Nottingham in a decade
overnight, beating opposition party Labour by picking up votes from pro-Brexit party UKIP, which did not field a candidate.
Claiming at
Labour's annual conference
this week that his party is "winning the debate" on the UK's future, leader Jeremy Corbyn saw delegates supprort a motion for a second referendum on March 2019's exit from the European Union, while putting forward policies including renationalisation of UK railways and utilities, plus a "solidarity fund" levy on second homes, aimed at ending "greed is good capitalism."
Post-Brexit the UK will become
"unequivocally pro-business"
Conservative leader and UK prime minister Theresa May yesterday told US financiers in a speech in New York, vowing that "whatever your business, investing in a post-Brexit Britain will give you the lowest rate of corporation tax in the G20."
But trading at £908 per ounce, that still put the gold price in Sterling terms on track for its lowest weekly finish since the Friday before that vote's shock outcome.
The gold price in Euros meantime recovered all of this week's previous 1.0% loss to trade back at €1022 per ounce as the single currency fell on the FX market.
US Secretary of State Mike Pompeo yesterday said he is
"disturbed and indeed deeply disappointed"
by the European Union's move to continue trading with Iran in defiance of Washington's new sanctions against the Islamic state over its nuclear research program.
US president Donald Trump's "America first" strategy is acting as a
"catalyst for long-term de-Dollarization"
of global markets and foreign-currency reserves, reckons investment bank J.P.Morgan's strategist  Marko Kolanovic.