GOLD PRICES dipped back below $1200 per ounce as London trading ended on Thursday, easing $7 per ounce from the new 7-week high hit overnight in Asian trade as commodities rose again but New York stockmarkets followed global equities lower following yesterday's press conference from US president-elect Donald Trump.
"Best sign Trump rally is fading?"
asks MarketWatch
. "Stocks are getting crushed by gold in 2017."
But "gold prices [are] approaching the corrective target [at] $1205," countered the latest weekly chart analysis from German financial services group Commerzbank, now "looking for failure" after gold retraced a little over one-third of its July to December drop.
"Only a weekly close above $1319…[where] the 5-year downtrend [now comes in]…would be enough to negate downside pressure."
Major government bond prices meantime continued to rally, driving the yield offered to new buyers lower.
"The real rates reversal has been good for gold," says bullion market maker ICBC Standard Bank, noting how gold prices tend to move inversely to real yields adjusted for inflation expectations, "but we don't think it will last.
"We are sticking to our view that the current rally is about to lose steam," writes the bank's strategist Tom Kendall, "and a more sustainable turn will have to wait until mid-year."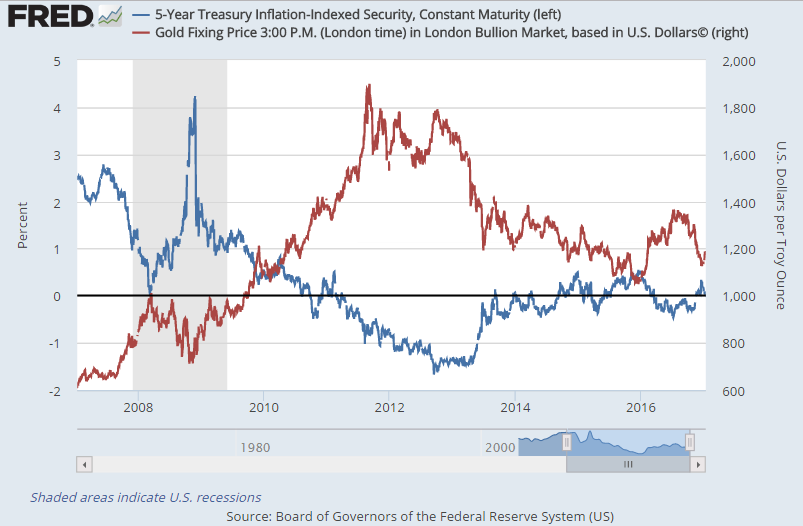 Larger money managers "appear content to remain on the side-lines for now" Kendall explains, pointing to weak demand in exchange-traded gold trust funds.
"Secondly, the Chinese New Year is approaching," meaning that wholesale bullion inflows to the world's No.1 consumer market are now set to decline ahead of the
week-long holiday of travel
, celebration and shopping starting 27 January.
"Thirdly, it just seems too early for markets to give up on the Trump-onomics reflation trade" simply on the basis of yesterday's widely lambasted press conference by the president-elect.
The largest gold ETF, the giant SPDR Gold Trust (NYSEArca:GLD) ended Wednesday
unchanged in size for  a third session
, needing the smallest bullion backing since last April despite gold's near-4% rise for 2017 to date.
The Shanghai gold premium shrank Thursday to $13 per ounce above London quotes, 5 times the average incentive offered to new bullion imports into the world's No.1 consumer nation, but down from late-December's spike to 3-year highs at $40 and the lowest since mid-November.
Trump's election meantime marks
a "paradigm shift" for investors
, according to the $120 billion US private-equity fund KKR in a note to clients, with asset-supportive policies following the global financial crisis now replaced by a focus on jobs and income also in the UK after last year's Brexit vote.
The
unemployment rate
 as tracked by Washington has retreated from a three-decade high of 10.0% to 4.7%, below its series average, but average wages have meantime risen 2.1% per year since the start of 2009 while the official Consumer Price Index has shown inflation of 1.7% per year.