GOLD PRICES gave back most of last night's $10 pop following news of Donald Trump's much-trailed tax reforms on Thursday, retreating to $1263 per ounce as the Dollar rallied but commodities and world stock markets extended their drop.
Silver fell harder, trading almost 7% below last week's 5-month high of $18.66 per ounce as gold held 2.7% lower.
The Euro eased back from this week's earlier surge after the French election's first-round result as the European Central Bank held its negative interest-rate and €60 billion-per-month QE
policies unchanged
.
"Economic risks are still tilted to the downside due to global factors," said ECB president Mario Draghi in his post-meeting press conference, also blaming "sluggish [economic] reform" across the 19-nation single currency zone.
Trump's White House last night published the proposed US tax reforms as a 1-page list of bullet points giving what journalists and pundits agreed to call
"scant detail"
or a "
broad outline
" depending on their political affiliation.
But with the US debt ceiling set to be hit Friday as Congress argues over a $1trn borrowing plan, political analysts said the idea of slashing tax rates on high earners and halving the rate of corporation tax has
"slim-to-no chance"
of passing Senate and Congress.
"Gold and more importantly silver have reached first objectives," says the latest technical analysis from Stephanie Aymes' team at French investment and bullion market-making bank Societe Generale, pointing to $1262 and $17.50 respectively.
"Gold ha[d] shown an impressive recovery [to reach] trend lines drawn from 2011 at $1290…and is [now] likely to show a rebound."
Silver, in contrast, today slipped below what SocGen's note had called "a multi-month ascending channel limit" at $17.41, dipping 5 cents lower in Thursday morning's London trade.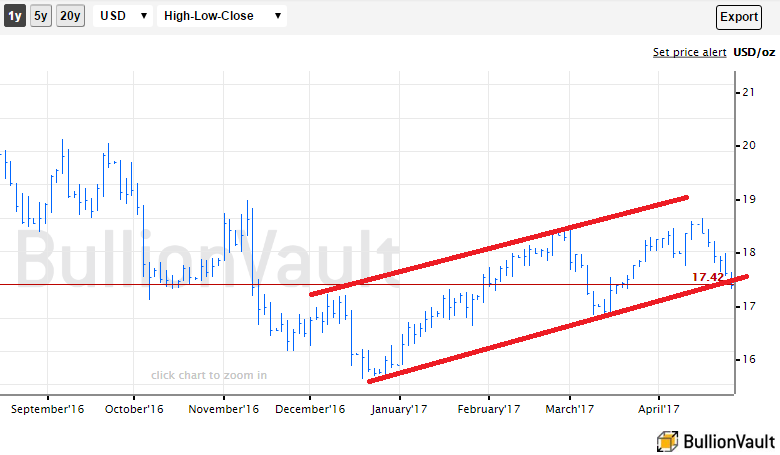 World stock markets fell after Wall Street turned suddenly lower late Wednesday as news broke of Trump's tax reforms.
Crude oil meantime lost 1.8%, dropping below $49 per barrel of American benchmark WTI, after the
weekly US inventory report
showed a surge in gasoline stockpiles against slowing demand.
Chinese gold prices held firm in Yuan terms but slipped to the equivalent of $9 per ounce above comparable London quotes at the Shanghai afternoon fix, back in line with the official benchmark's average premium since it launched 12 months ago.
British Pound gold prices fell to 10-week lows beneath £980 per ounce. That was a 3-year high when broken by gold's Brexit referendum surge of late-June 2016.
"I'm sure we will…have a free trade agreement [with the UK]," said the European Commissioner for Trade Cecilia Malmstrom at a conference in Copenhagen today.