GOLD PRICES rose above what analysts called 'technical resistance' to break $1260 per ounce Tuesday afternoon in London as Donald Trump's switch in foreign policy against Syria and North Korea again made headlines worldwide.
After the unilateral US action against Syria's Assad regime last week, President Trump said he will
"solve"
 the rogue Asian state and its nuclear-weapons ambitions with or without China's help.
Pushing US policy against Assad-supporter Russia, UK Foreign Secretary Boris
Johnson meantime failed
to get the support of other G7 developed-nation leaders in adding new anti-Moscow sanctions.
"Nowadays powers tend to self-destruct – USSR and now US?"
Rising again above the 200-day moving average of
daily prices, gold
also moved above its end-February high at $1264 broken by
Friday's brief spike
following the US cruise missile strikes on one of Assad's airforce bases.
Western stock markets cut earlier gains, while US Treasury bonds rose in price, pushing yields down to 2.33% on 10-year debt – the lowest since gold prices hit that peak 5 weeks ago.
Russian yields
in contrast hit 2-week highs as prices for Ruble debt fell.
Silver followed gold prices higher, rising again above $18 per ounce after sinking from its own 5-month high late Friday.
China's Yuan earlier neared 1-month lows versus the Dollar, while the gold price in Shanghai held a $12 per ounce premium to London quotes.
Just shy of 2017's average Shanghai premium to date, that was nearly twice the average incentive offered to new imports into the world's No.1 consumer nation across 2016.
With gold prices losing 1.3% on Monday from Friday's 5-month high at the London benchmark auction of $1266 per ounce, the giant SPDR Gold Trust (NYSEArca:GLD) grew in 0.2% size, needing another 1.8 tonnes of bullion to back its value as the number of shares in issue increased.
That took the GLD's holdings to 838 tonnes, the largest since
last month's US Fed decision
of 15 March, when prices shot higher from what was then a 5-week low.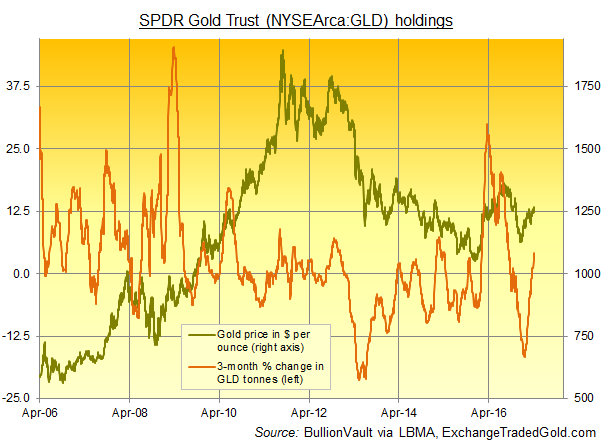 "Donald Trump is losing his scariness and [even] in the Eurozone there is now a sense of optimism breaking through," Reuters had earlier quoted Thomas Gitzel, chief economist at Liechtenstein-based private bank VP, noting the latest economic sentiment data for the 19-nation single currency union.
Eurozone economic optimism has risen to its strongest since December 2015, according to
the ZEW survey
, with Germany's index reading surging well ahead of analyst forecasts.
Economic optimism amongst small US business owners held in March near its
strongest level since early 2005
's record high, the NFIB survey said Tuesday, having leapt around Donald Trump's victory in last November's presidential election.
"I think we have
a healthy economy now
," said Fed chair Janet Yellen at an event in Ann Arbor, Michigan on Monday.
"[Gold price] resistance remains unchanged at $1257.20," said bullion bank Scotia Mocatta's New York team overnight, pointing to the 200-day Moving Average.
Tuesday's wholesale bullion trading saw London benchmark
the LBMA Gold Price
find just 5 direct participants in the final round, with the other 8 approved banks and brokerages – now able to trade centrally-cleared contracts at the auction, removing the need for one-on-one relationships and credit lines with each and every other DP in a move aimed at boosting engagement – not entering any demand and supply into the process.