GOLD PRICE gains continued for Dollar investors on Thursday but held flat for other traders as the US currency touched its lowest Euro value since January 2015 following yesterday's "no change" decision from the Federal Reserve.
Asian stock markets rose – as did most commodities and major government bond prices – but European equities then slipped as the Dollar bounced from its new 30-month lows versus the 19-nation single currency.
Gold priced in Dollars today set its highest London benchmarking since 14 June at $1262 per ounce.
Thursday morning's Dollar price stood 2.0% above the 2017 average to date.
For Euro and Sterling investors it came 5.1% and 1.9% below respectively.
"The Dollar's biggest problem is it can't expect help from the Fed for a long time," Reuters quotes FX head Alan Ruskin at German investment and commercial bank Deutsche.
"It's just another day in paradise."
"Nothing in [Wednesday's] statement changes Pimco's view that a third rate hike this year
is far from a done deal
," the
Financial Times 
meantime quotes global strategist Richard Clarida at the California-based bond fund giant.
"If there is no rebound in core inflation between now and December, the next rate hike may be a decision for the next Fed chair, if Janet Yellen is not reappointed."
Yellen's current term as head of the US central bank ends in February 2018.
"I like her; I like her demeanor. I think she's done a good job," US President Donald Trump told the Wall Street Journal yesterday.
"She is a low-interest-rate person."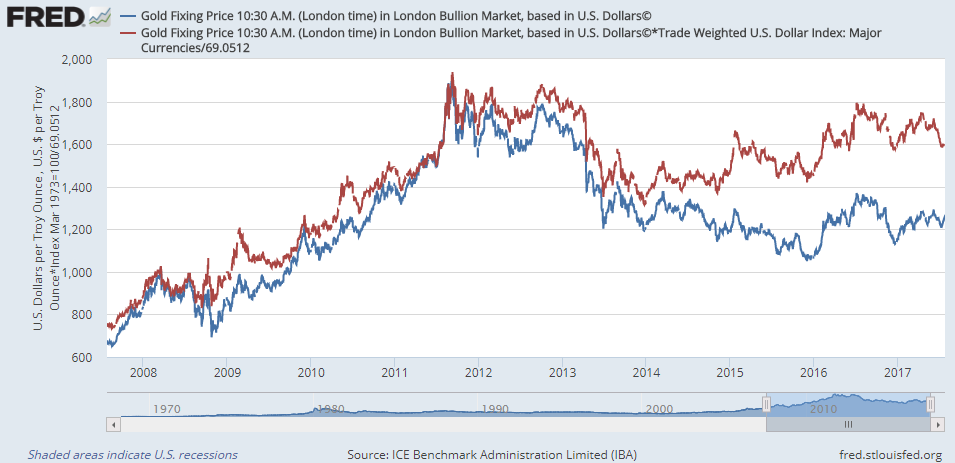 Despite the Dollar's 2017 drop on the forex market, the gold price for US savers and investors remains further below its all-time peak of 6 years ago than it does against other currencies. 
Priced in the Dollar, gold today traded 30% below its level of September 2011.
Adjusted for the Dollar's trade-weighted index against major currencies, the metal's spot bullion price has lost just 12% for non-US consumers, miners and investors.
Overnight action in Asia and then London saw spot gold prices rise sharply versus the Japanese Yen and Swiss Franc, hitting new July highs as those two 'safe haven' currencies retreated with the Dollar on the FX market.
"Rate hikes are already coming at a glacial speed. Why is Yellen slowing them down even more?"