GOLD PRICES in GBP touched new 3-year highs at £1070 per ounce on Wednesday as the British Pound sank to new 3-decade lows on the currency market amid a fresh plunge in world stock markets, commodity prices and government bond yields.
Sterling's Dollar value (GBP/USD) sank to $1.28 in overnight Asian trade, while gold prices shot higher in
heavy Shanghai trade
.
Sovereign debt from across the developed West today offered new record-low returns to buyers, with the total now paying negative rates – and guaranteeing a loss of value to investors on redemption – reaching
towards $10 trillion
.
Ten-year US Treasury bond yields fell to new record lows of just 1.35% per year.
Shares in German financial services giant (and former London bullion-market maker) Deutsche Bank
meantime hit a new all-time low
, halving from the start of the year, while German 10-year Bund yields fell towards new record negative returns of -0.20% per annum.
London's FTSE100 share index fell 1.6%, less badly than Frankfurt and Paris, but the more UK-focused 250 index extended its post-Brexit drop to 10%.
Insurance firm
Aviva yesterday joined
its Standard Life and M&G competitors in shuttering a UK real-estate investment fund to investor withdrawals.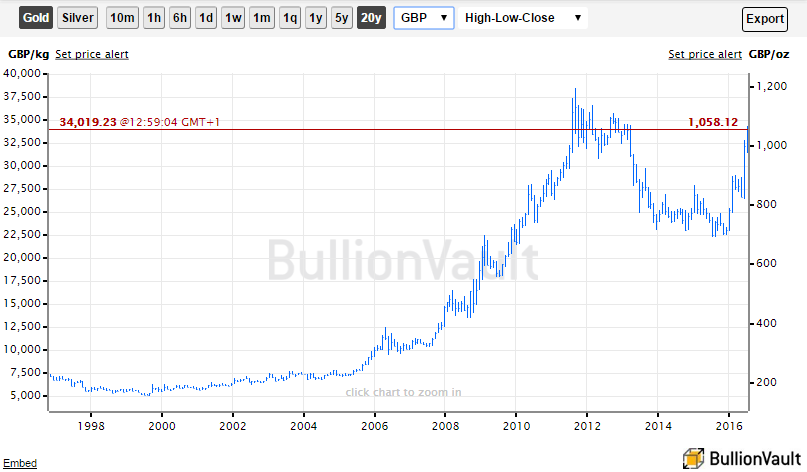 With UK prime minister David Cameron set to stand down after losing the Brexit vote, and his Labour opposite Jeremy Corbyn already losing a parliamentary party vote of no confidence, the long-delayed
Chilcot Report into the 2003 invasion of Iraq
today said former PM Tony Blair went to war "before peaceful options for [Baghdad's] disarmament were exhausted," backed by "flawed intelligence and assessments."
"We have been flagging the upside risks to our [previous gold price] views for some time now," says a note from Swiss bank and bullion market-maker UBS's London analyst Joni Teves.
Now hiking her second-half 2016 gold price forecast in Dollars to $1400, Teves was
already the most bullish professional
in the London Bullion Market Association's 2016 forecast competition at New Year, predicting a full-year average of $1225.
Tuesday's PM benchmark in London took
2016's average to date
up to $1223 per ounce, already 11% above of 2015.
Only Martin Murenbeeld of Dundee Economics in Australia
forecast a peak 2016 price
above yesterday's PM benchmark, predicting an annual average of $1135 with a high of $1375.