GOLD PRICES hit new 17-month highs against the Dollar above $1360 per ounce at the start of London dealing on Thursday, rising as the US currency extended its slump after President Donald Trump's Treasury Secretary said he welcomed a "weak Dollar".
Gaining for the 12th time in 18 trading days so far in 2018, wholesale gold bullion prices set the highest London AM benchmark since the
shock Brexit referendum result
highs of August 2016, some $63 per ounce above the closing level of 2017.
That took the gold price's 2018 rise in Dollar terms to 4.9% since New Year's Eve.
With Trump's administration now
imposing trade tariffs on imports
of items including solar panels, "A weaker Dollar is good for us as it relates to trade and opportunities," said Steve Mnuchin in
an interview Wednesday
, breaking with Washington's official "strong Dollar policy" in place since the 1990s.
"That mantra has never really meant much," says Marc Chandler at private bank Brown Brothers Harriman, "but to deviate from it suggests that US policymakers desire a weaker Dollar."
But shorter term, its value "is not a concern of mine."
The Dollar's trade-weighted index hit a 14-year high in late December 2016, immediately after Trump's victory for the White House.
Rebased to that level,
the price of gold
for non-Dollar investors has risen 17.5% since then, compared to a 19.8% gain in terms of the US currency.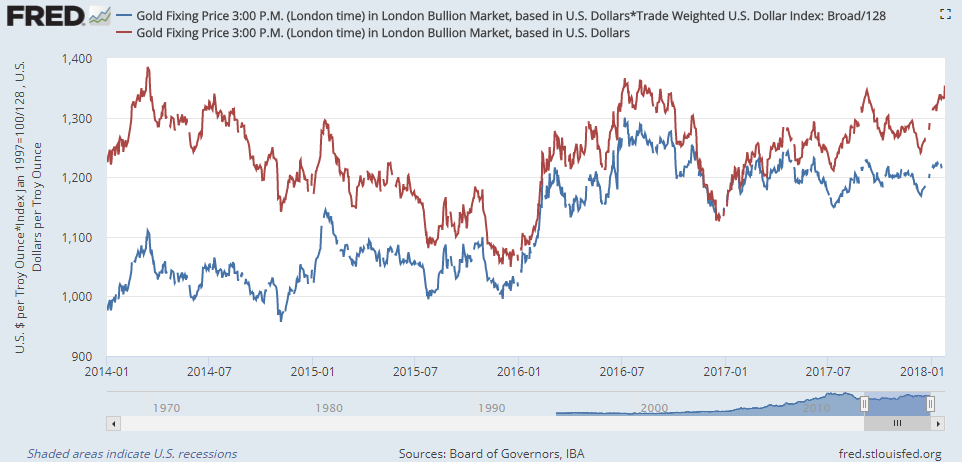 "Gold's role as a risk hedge will remain supportive as rising tensions in Europe and a somewhat spontaneous approach from President Trump are raising uncertainty levels," says the latest quarterly supply and demand analysis from specialists GFMS Thomson Reuters.
The Euro today touched $1.2495 – its highest level since mid-December 2014, back when gold stood at $1175 per ounce.
Today's Euro strength capped the gold price for German, French, Italian and other single-currency investors at €1096 per ounce, only 0.9% higher for 2018 so far.
The Chinese Yuan meantime rose to its highest level against the Dollar since the
"shock" devaluation
by the People's Bank of August 2015, widely seen as an attempt to stem a slowdown in exports and growth by the world's second largest economy.
"As the greenback slumped to new lows, the on-shore premium [for gold in Shanghai rose] toward $9 relative to loco-London bullion," says today's trading note from
Swiss refiners MKS Pamp
.
"The metal was able to print a $1366 session high before European names opened on the offer as the Dollar gain[ed] traction."
No.1 private gold consumer nation since 2013, China will see household demand peak with the Lunar New Year holidays, coinciding this year with typically heavy demand around Valentine's Day in mid-February.
China's jewelry retailers "are carrying inventory into 2018" however, says GFMS, and while "there is pent-up demand for investment bars, this will need stimulus from an improving price and resurgence in price expectations" amongst Chinese investors.
Silver meantime tracked the overnight surge in gold prices, extending what one dealer called its "staggering" Dollar gain of 3.3% on Wednesday to touch the highest level against the US currency since mid-September last year.
Priced in the single-currency Euro however, silver only rose back to its closing level of 2017, trading at €14.12 per ounce.
For UK investors, silver today held a 2.0% loss for 2018 to date, trading at £12.30 per ounce.