GOLD PRICES held at 2-month lows against the Dollar and fell near post-Brexit lows for UK investors in London trade Thursday as world stockmarkets rose despite worse than expected global manufacturing data.
Commodities rallied from yesterday's sell-off, with silver holding unchanged on the week so far at $18.68 per ounce.
Japanese manufacturing shrank again, while Chinese activity held flat on both the NBS and Caixin surveys and Eurozone growth slowed.
The British Pound, however, reversed the last of August's drop versus the Euro, and touched 1-month highs versus the Dollar, after
UK manufacturing activity showed a marked jump
in August from the post-Brexit drop on Markit's PMI survey.
That drove the gold price in Sterling down to £985 per ounce – fully 8% below the 3-year high hit immediately after the UK's referendum decision to quit the European Union was announced.
Gold priced in US Dollars traded at $1306.
"The next few months could be a lot 'riskier' for developed-country financial assets than the past few months," writes FX strategist Steven Barrow at Chinese-owned ICBC Standard Bank in London.
"Monetary policy divergence looks as if it will resurface again as the Fed goes in the opposite direction to everybody else. We know that this can cause investors to panic.
"There's also increased political risk, most notably in US elections and the Italian referendum on constitutional change."
US Treasury bond prices slipped overnight, pushing 10-year yields up near 2-month highs at 1.60%.
That remains far below the 2.30% level hit when the Fed finally made its first rate hike from zero in mid-December last year.
Gold prices today traded 21% higher against the Dollar from that date.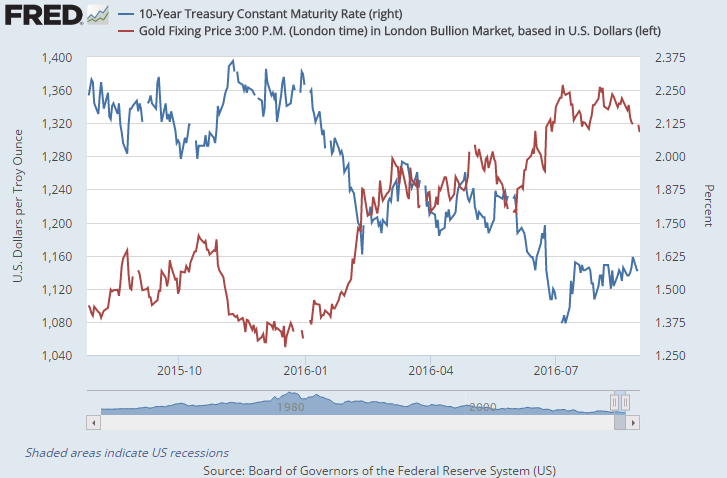 Gold-backed ETF the SPDR Gold Trust (NYSEArca:GLD) yesterday saw its second-heaviest outflow of bullion of 2016 to date, shedding more than 12 tonnes as investors liquidated 1.3% of the trust fund's shares.
Taking total GLD holdings down to a 2-month low of 943 tonnes, that still left the world's largest exchange-traded gold trust larger by almost one-half from the end of 2015.