GOLD PRICES jumped near 8-week highs in wholesale bullion trade Monday as weekend comments from US president-elect Donald Trump about the Nato military alliance caused shock in European capitals, and German politicians rebuked UK threats to slash corporate tax rates if a 'hard Brexit' from the European Union sees Britain lose access to the single market.
Dollar gold prices gapped higher from Friday's finish and then rose above $1208 per ounce, some 4.9% higher for 2017 to date, before easing $5 lower.
Gold priced in Sterling meantime touched £1006 per ounce – its highest since 11 November – as the Pound sank ahead of a key speech on the UK Government's Brexit negotiation plans due from Prime Minister Theresa May on Tuesday.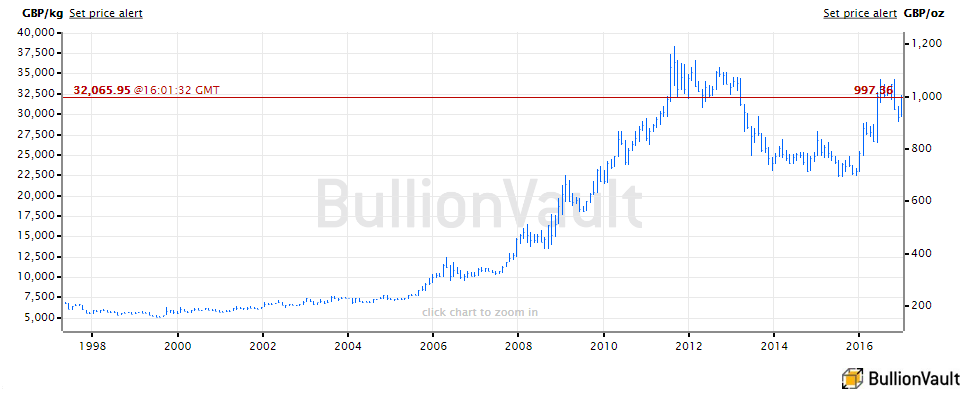 GBP gold prices then eased £10 lower as world stock markets fell and government bond prices rose, nudging interest rates down.
"The British people
are not going to lie down
and say, too bad…if we have no access to the European market," UK finance minister Philip Hammond told Germany's
Welt am Sonntag
newspaper yesterday, saying Britain would "change its economic model" – widely viewed as a threat to slash corporation tax to attract multi-national businesses.
"The [UK's] two major economic weaknesses," counters German CDU party deputy-leader Norbert Röttgen "are the considerable trade deficit and the large budget deficit.
"Hammond's tax cuts threats are therefore
threats of self-harm
…an expression of British helplessness."
China will meantime "make joint efforts" when President Xi Jinping attends his first World Economic Forum in the Swiss resort of Davos this week "to explore long-term measures for the world's development, establish a community of common destiny for mankind, and safeguard international peace and stability," he said on arriving in Zurich on Sunday.
The European Union "is
basically a vehicle for Germany
,"
The Times of London
yesterday quoted US president-elect Donald Trump, who has now added BMW to the list of foreign auto-makers facing a 35% import duty for importing new cars to the United States.
"If you ask me, more countries will leave," Trump said, adding that "I think we're gonna get something done very quickly" on a new trade deal with the UK while calling the Nato military alliance "obsolete".
That "caused astonishment and anxiety,
not just in Brussels
," says Germany's foreign minister Frank-Walter Steinmeier.
"Nato is very important," Trump told the Times, but only 5 countries are "paying what they're supposed to" at 2% of GDP on defense.
Gold prices also jumped against the Chinese Yuan, fixing above 270 per gram for the first time since end-November at Shanghai's benchmarking auction but cutting the premium over London quotes to $11 per ounce as wholesale stockpiling eased ahead of the key Lunar New Year holidays, starting at the end of this week.