GOLD PRICES fell to new 6-month lows against the Euro on Monday, dropping below €1190 per ounce for the first time since early June even as the single currency rose following Matteo Renzi's defeat in the Italian referendum on reforming the constitution.
Priced in US Dollars held above last week's new 9-month lows, finding a floor at $1162 – down over 15% from early July's post-Brexit peak – after initially spiking to $1188 per ounce.
Bond yields rose again as major government debt prices continued their fall, with
10-year Italian bonds
offering over 2.03% per annum – sharply higher from the record-low 1.04% seen in August.
The Eurozone's third largest member by GDP, Italy rejected Renzi's call to reform and reduce the power of the Senate by a margin of 20 percentage points, leading the prime minister – with less than 3 years in power, the 4th longest-serving in Italy since 1990
according to the BBC
– to resign as promised.
After an initial drop, the Euro rallied from near last month's 2-year lows to the Dollar, while wider Eurozone stock markets rose.
The Bahrain-based Accounting and Auditing Organisation of Islamic Financial Institutions meantime issued details of its new Shari'ah standard for gold investment products, agreed by scholars on
its Shari'ah Board last week
and aimed at enabling Islamic investors to trade contracts representing physical gold, as well as traditional coins and bars.
The world's largest gold-backed exchange-traded fund – the SPDR Gold Trust (NYSEArca:GLD) – "will probably qualify," reckons Shari'ah scholar Mohd Daud Bakar, speaking at a press conference
to launch the initiative
in Arab financial center Dubai on Monday.
"We
fully expect to announce imminently
that GLD does qualify," Bloomberg quotes Natalie Dempster, managing director for Central Banks and Public Policy at the mining-industry backed World Gold Council, which sponsored the new initiative and is also sponsor of the GLD through its World Gold Trust Services LLC subsidiary.
Launched in 2004 and the world's No.1 exchange-traded trust fund by value at its 2011 peak – briefly overtaking the US stock market tracking
SPY ETF
– the GLD shrank in November at its worst monthly pace since April 2013, when gold began its sharpest crash in more than three decades.
Shrinking by 75 tonnes as shareholders liquidated GLD stock last month, the trust fund added almost 9 days global gold-mining supply to the market, beginning December with its smallest holdings since end-May at 870 tonnes.
Speculative players in US Comex gold futures and options meantime slashed their net bullish betting by almost one-third in the 5 weeks ending last Tuesday, new data from US regulator the CFTC showed after Friday's close.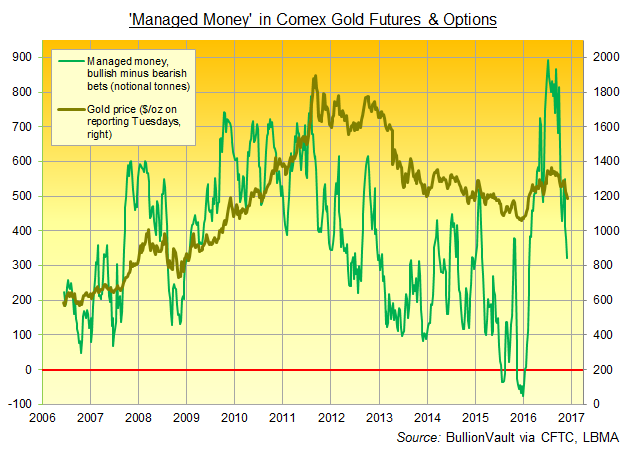 Cutting their 'net spec long' to the equivalent of 321 tonnes of bullion at cash prices, hedge funds and other players in the
CFTC's Managed Money category
have now slashed their bullish bets on gold derivatives, net of bearish the group's bearish bets, by 64% from early July's new all-time record high, reached just after the UK's Brexit referendum shock.
"A progressive stride for the Islamic finance industry," according to AAOIFI secretary-general Dr.Hamed Hassen Merah, the new Shari'ah standard for gold investment products will most likely not be able to approve derivatives – such as Comex futures or options – where no metal is necessarily involved.
Bullish silver bets held by the Managed Money category of futures and options traders retreated by the equivalent of only 1 tonne last week net of bearish bets, CFTC data show, down to only a 5-week low.
That was still 46% down from July's new record peak however.
Silver prices
held firmer than gold on Monday, edging 45 cents higher from late-November's 5-month lows to trade at $16.60 per ounce.