GOLD PRICES rose to a 4-week high against a weak Dollar on Monday morning in London, gaining as the US currency held near a 13-month low as traders looked from the resignation of President Trump's key PR aide to this week's Fed meeting on interest rates, writes Steffen Grosshauser at BullionVault.
Silver surged to its highest level in 3 weeks, hitting $16.54 per ounce but outshone by platinum, which extended its rally from early July's new 2017 lows to 4.8% at $934.
Ahead of the Federal Reserve's 25-26 July meeting – expected to leave rates and QE bond holdings unchanged – the Euro held onto last week's gains near 2-year highs against the Dollar after the IMF downgraded the outlook for US economic growth but raised its forecast for the 19-nation single currency zone.
The Dollar's fresh drop capped gold-price and other precious metal gain around last week's closing level for non-US investors.
"Traders
haven't been this bearish
on the US Dollar for more than a year," says Reuters of positioning data in Comex derivatives.
With Sean Spicer
quitting as White House press secretary
at the weekend, "I think people are getting more nervous and careful about what is going to happen [with Trump's administration]," explained ICBC Standard Bank's Tokyo head of commodity trading, Yuichi Ikemizu.
Gold prices today hit $1257 per ounce, the highest since 25 June, and broke through the 100- and 50-day moving averages after making the biggest weekly gains in two months.
Gold could "remain in a $1200-$1250 range" if the US central bank decides to raise interest rates this week, reckons Dutch bank ABN Amro's analyst Georgette Boele.
Current betting on interest-rate futures sees only a 3% chance of the Fed raising its key rate to a ceiling of 1.50% in Wednesday's announcement.
Betting on September's decision – which will bring new economic forecasts plus a press conference with Fed chair Janet Yellen – has seen "no change" from the current 1.25% ceiling rise from odds of 87% to almost 92% certainty.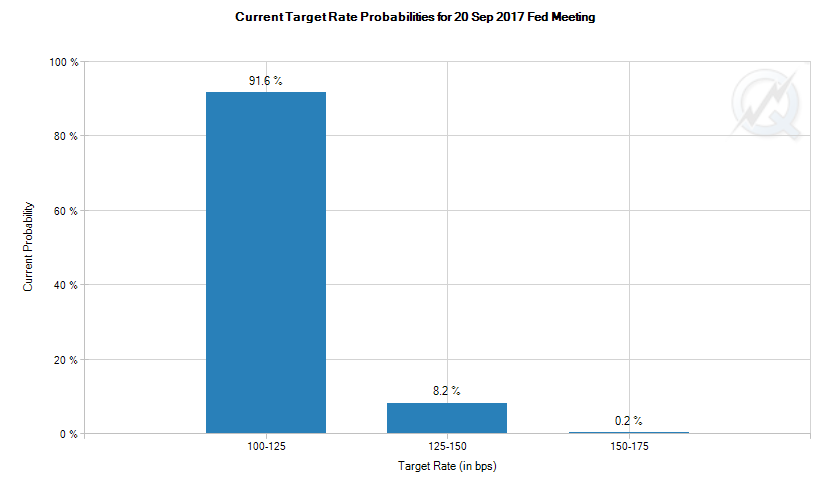 Monday meantime saw the Washington-based International Monetary Fund (IMF) maintain its positive growth forecasts for the world economy, but downgrade its prognosis for the US and the UK.
"We have long predicted that Brexit would have some negative long-term effects," said IMF's chief economist, Maurice Obstfeld. "But in the case of this year's forecast [downgrade] we are basing it
purely on the observation of data
for the first part of this year which has been weaker than expected."
Global gross domestic product would grow by 3.5% and 3.6% in 2017 and 2018 respectively, according to the IMF's latest quarterly update to its
World Economic Outlook
. 
A separate poll of economists meantime sees a one-in-three risk that Britain and the European Union will fail to close a deal over the UK's exit from the world's single largest economic region by the end of the 2-year countdown at the end of March 2019,
according to a Reuters poll
.
Money managers and hedge funds raised their bullish gold betting via Comex derivatives for the first time in 6 weeks on latest data from US regulator the Commodity Futures Trading Commission (CFTC).
In contrast, the Managed Money's total number of bearish bets against silver hit a fresh record, keeping the net position short overall for the second week since August 2015.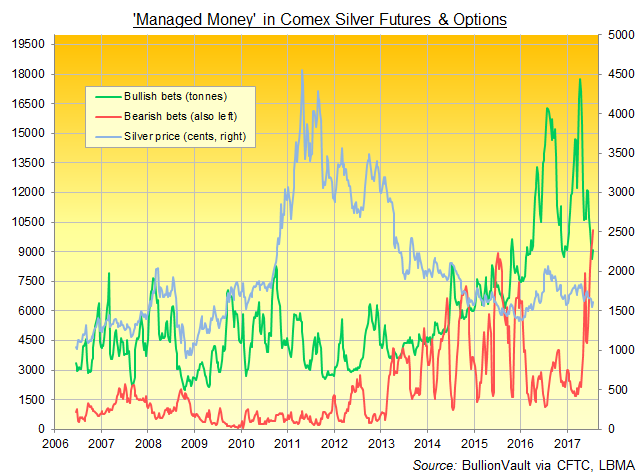 Holdings in the giant SPDR Gold Trust (NYSEArca:GLD) were reduced by further 23 tonnes and shrank to 813 tonnes last week – the lowest since beginning of February. The world's biggest gold-backed exchange-traded fund has seen 4.3% outflows so far this month. 
In other commodities, crude oil moved up slightly from 1-week lows on Monday as Opec oil cartel members
met with non-member producer states
in St.Petersburg, Russia to review setting new output cut targets worldwide.