GOLD PRICES extended last week's 2.4% gains to reach new 3-month highs on Monday in London, briefly breaking above $1230 per ounce even as the US Dollar rose on the FX market amid news of French presidential candidate Marine Le Pen calling for 'Frexit' from the European Union, writes Steffen Grosshauser at BullionVault.
Silver rose alongside, but lagged the new highs in gold prices to hit $17.66 per ounce – some 6 cents short of Friday's new 12-week peak.
Proposing a 10% cut to France's income tax rate for lower-earners, plus retention of the 35-hour working work, Le Front National's
144-point manifesto
says Le Pen would begin 6 months of "radical" renegotiations on France's membership of the EU if elected in May.
Fearing a loss of access to the EU's 500 million consumers, more than half of UK business leaders believe the British economy has already suffered from last year's Brexit vote, despite the actual process of leaving the EU not having begun, according to
the Ipsos Mori opinion pollsters
. 
With European shares inching lower – and French bond yields doubling so far in 2017,
rising sharply above comparable German
rates – gold added 0.8% for the week so far to reach the highest Dollar price since mid-November.
"Gold and silver [could] continue to move higher in February," reckons brokerage INTL FCStone analyst Edward Meir, "largely on account of the continued weakness in the Dollar, coupled with geopolitical developments."
"We could see an immediate spike in gold."
Looking further ahead, "gold will climb about 6%" in 2017 due to "the amount of
political risk being created
by this new US president," reckons Independent Strategy analyst David Roche.
Winner of the London Bullion Market Association's 2016 Forecast competition, Swiss bullion bank UBS's analyst Joni Teves now
sees gold prices averaging an 8% gain
this year in Dollar terms, citing "elevated macro risks" to other investment assets.
Money managers betting on gold prices through Comex futures and options grew their bullish positions and cut their bearish contracts as a group last week, new data showed late Friday.
Altogether, that raised their 'net speculative long' position on gold prices by more than one-fifth to an 8-week high, still only 60% of the last 10 years' average.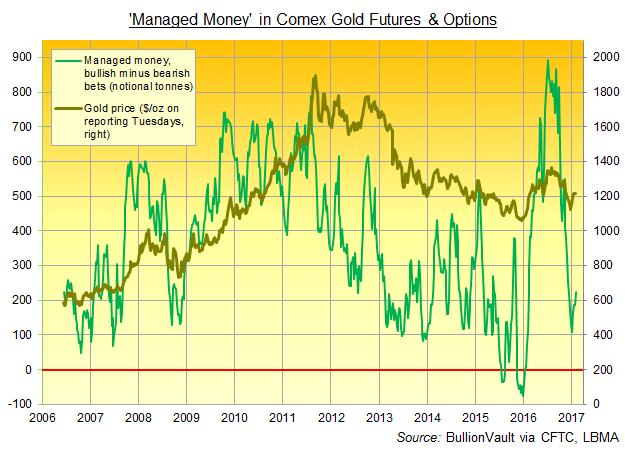 Comex silver contracts meantime saw the Managed Money category extend its net speculative long betting another 14% according to positioning data reported to US regulator the CFTC.
Reaching a 17-week high, the net spec' long amongst money managers in Comex silver stands 176% larger than its 10-year average.
The giant iShares Silver Trust (NYSEArca:SLV) in contrast shrank last week, cutting the exchange-traded trust fund's holdings to a new 7-month low. 
Holdings of the world's largest
gold-backed ETF vehicle
, the SPDR Gold Trust (NYSEArca:GLD), grew around 0.4% to 814 tonnes on Friday.