GOLD PRICES eased lower on Monday morning in London, touching a 1-month low after French President Emmanuel Macron saw his En Marche! party sweep to victory in parliemantary elections, writes Steffen Grosshauser at BullionVault.
The UK government of Theresa May meantime began its Brexit negotiations with the European Union after losing its parliamentary majority at this month's election.
US Federal Reserve bank presidents William Dudley and Charles Evans were both due to give speeches later on Monday, after the Fed raised rates last week for only the fourth time since the global financial crisis and the second time this year, lifting the ceiling to 1.25%.
"While this was widely expected, the Fed managed to strike a reasonably hawkish note as it maintained its forecast of one more rate rise within 2017 and announced a strategy for reducing its $4.5 trillion balance sheet later this year," says the latest weekly note from analyst Jonathan Butler at Japanese conglomerate Mitsubishi.
"If Dudley confirms that the Fed will remain hawkish towards interest rate hikes, I do not think gold will be able to recover anytime soon," reckoned Helen Lau at Australian stockbroker Argonaut Securities. 
Ahead of last week's Fed decision, money managers betting on gold prices through Comex futures and options contracts cut their net-bullish wagers by 11%, new data said late Friday – the first such reduction in four weeks, according to data by the US Commodity Futures Trading Commission (CFTC).
The Managed Money's net long position in Comex silver derivatives was also reduced by 11% after increasing 3 weeks in a row. By notional value however, it remained 53% larger than the last 10 years' average.
Gold's speculative net-long position was 33% larger than its last 10 years' average.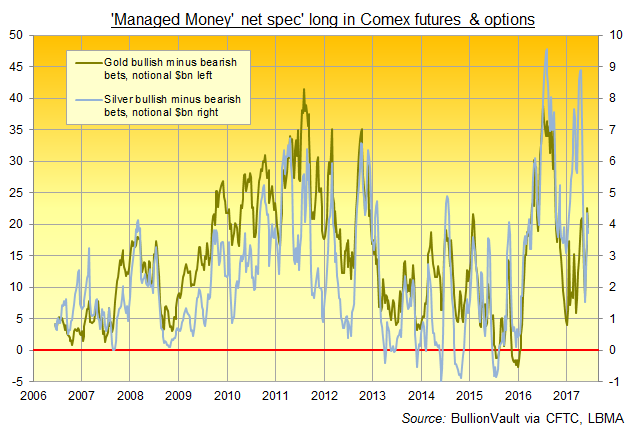 Silver prices
tracked gold on Monday morning to dip 10 cents below last week's close of $16.70 per ounce.
Gold edged lower from last week's close of $1253 per ounce to touch $1249 on Monday morning, its lowest level since 19 May, before slightly bouncing back.
The metal's support is currently at $1245 per ounce, according to Canada's Scotiabank precious metals analysts – a level that is likely to be "tested on the downside2, says Swiss refinery and finance group MKS's senior trader Alex Thorndike. 
Looking at the UK's Brexit talks meantime – the "most complicated negotiation of all time" according to UK Brexit Secretary David Davis – "[June's] election result increased the probability of extreme outcomes," reckons Phillip Souta, head of UK public policy at Clifford Chance LLP.
"If there is going to be a deal, it makes it
more likely to be softer
than before the election, but on the other hand the probability of no deal at all has increased."
"France could become the strongest major economy in Europe in a decade," reckons Holger Schieding, chief economist at Berenberg Bank, after the shares of France's blue-chips gained 1.1% and French banks BNP Paribas, Societe Generale and Credite Agricole also strengthened following news of Macron's win.
Asian and other European stocks also rose on Monday, with Hong Kong's Hang Seng rising by almost 1.2% and the Stoxx European 600 index surging the most since April.