GOLD PRICES held near 2-week highs in London on Thursday, trading at $1335 per ounce as world stock markets rose sharply following the US Federal Reserve's "no change" decision on interest rates but a new United Nations report warned of a "third phase" in the global financial crisis, with a crash in emerging markets threatening to follow the Eurozone debt crisis of five years ago and the banking crash of 2008.
Commodities gained for a sixth session running while silver extended the move in gold prices, spiking within 2 cents per ounce of $20 – a two-year high when first reached in July.
Government bond prices also rose across the board, pushing 10-year US Treasury yields down to 2-week lows at 1.64% and dropping benchmark
Brazilian debt yields
to just over 12% per annum.
Recommending a "reduction of risk profile" in client portfolios for the coming 3 months, French investment bank and bullion market maker Societe Generale
maintains its fourth-quarter average
gold price forecast of $1350 per ounce, predicting a rise to $1375 in Q1 2017.
Each calendar quarter of 2016 has so far added $75 to the average gold price, by far the most consistent rate of change on modern records.
A repeat in Q4 would take the next 3 months' average price to $1411.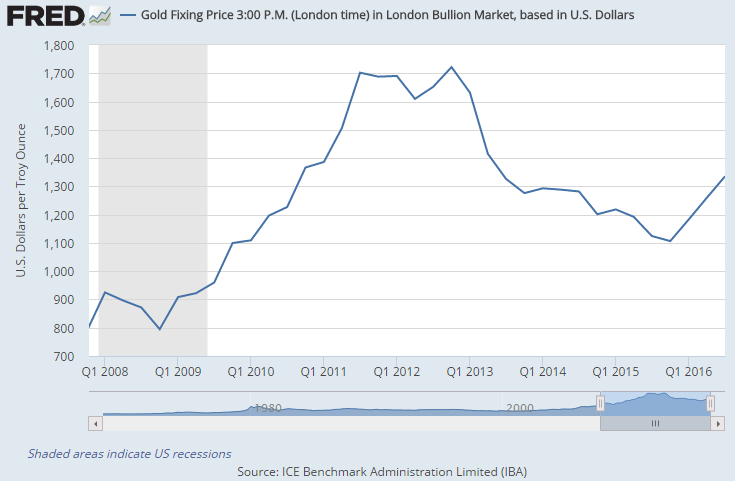 "We see scope for contagion [across emerging-market currencies] should Mr.Trump prevail" in November's US presidential election says SocGen's note, advising clients to buy the VIX volatility index to anticipate wilder swings in US stockmarkets.
"While the current [global financial] situation seems less ominous than in 2008, it is proving more difficult to manage," says the United Nations' new Trade & Development 2016 report, warning that failing growth in many developing countries "now [poses] a real danger of a third phase of the financial crisis which began in the United States housing market in late 2007 before spreading to the European sovereign bond market."
Corporate debt in emerging economies now exceeds $25 trillion, says the
UNCTAD report
, and "Damaging deflationary spirals cannot be ruled out," especially amongst commodity producer nations faced with continued falls in natural resources' prices.
Giant Chinese bank ICBC is
cutting the base metals team
at its ICBC Standard Bank division, Reuters reports, part of an "ongoing cost-cutting" drive according to sources.
The Opec oil-producers' cartel "
could be ready
" meantime to agree a cap on output to try and raise prices when it meets next week in Algiers, says the Iraqi delegation's head negotiator.
Beijing has summoned key coal-mining chiefs to a
sudden meeting Friday
in a bid to address China's supply problems – apparently caused by the government's crackdown on inefficient output – which have pushed the price of coking coal needed by the steel industry
more than 110% higher
since July.