GOLD PRICES fell back to last Friday's 43-week closing low against the Dollar and most other major currencies in London trade Tuesday, dropping over 1% as European stock markets rose but government bond prices fell, nudging interest rates higher.
Gold prices in Shanghai had
edged lower overnight
as the Yuan strengthened from 8.5-year lows on the FX market.
But that clipped only $1 per ounce off yesterday's 3-year record
Shanghai gold premium
, now some $23 over and above wholesale quotes for London settlement.
Embattled president of neighboring South Korea, Park Geun-hye today
asked parliament to decide
whether she should resign – 12 months before scheduled elections – over corruption allegations centered on her civilian advisor Choi Soon-sil.
The
Won strengthened
further from last week's 5-month low, driving the gold price for Korean investors down to its lowest level since late January at KRW44,450 per gram.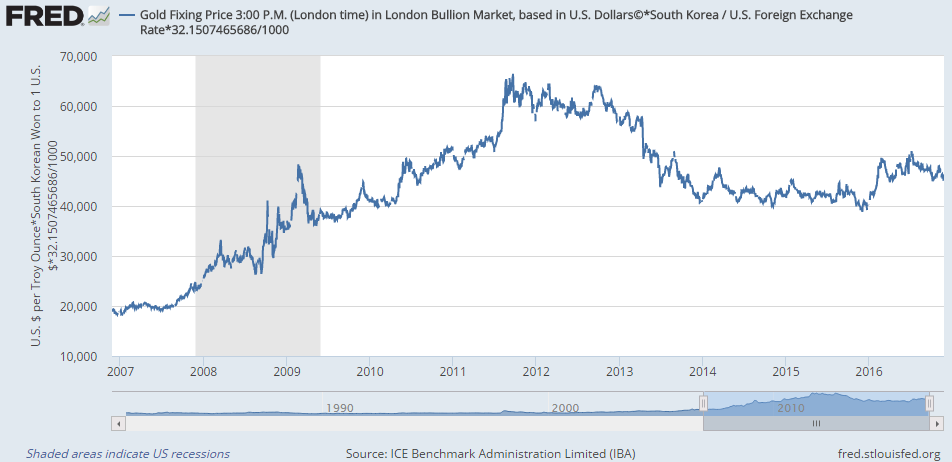 Conservative Milan-based newspaper
Corriere della Sera
– Italy's best-selling daily –
meantime reported rumours
from the Palazzo Chigi in Rome today that Prime Minister Matteo Renzi may resign even if he wins this weekend's referendum on parliamentary changes, because his mandate from 2014 to reform Italy's political institutions would then be complete.
Austria also goes to the polls Sunday, again in a tight race. Anti-immigration candidate Norbert Hofer of the Freedom Party
denied in a TV debate
last weekend that he wants an "Oexit" to follow the UK's Brexit, but repeated he would push for a referendum to leave the European Union if Turkey joins.
The gold price in Euros today fell to touch €1116 per ounce, a level seen only once the UK voted to quit the EU in late June.
"Short term, a rebound looks likely," says the latest gold-price note from technical analysts at French investment and bullion market-making bank Societe Generale.
But "a move beyond $1200/1207 remains needed…[after] gold tested [and failed at] resistance near $1330/1344" – currently where the downtrend from gold's Dollar-price peak at $1920 of September 2011 comes in – on Donald Trump's US election victory this month.
"[Gold] has [since] retraced towards earlier support near [that] multi-year [down] channel at $1172, where it has formed daily
doji
.
"This will be a key."
With gold prices gaining $10 from $1183 yesterday only to give them back today, the giant SPDR Gold Trust (NYSEArca:GLD)
ended Monday
with the amount of gold bullion backing its shares unchanged from Friday, stemming 11 sessions of outflows from the major
gold ETF investment vehicle
, the longest stretch since gold's spring 2013 price crash.
The largest silver ETF, the iShares IAU product, has meantime shed another 30 tonnes from the middle of last week, shrinking to its smallest size since July as prices extend their post-Brexit retreat to 23%, trading Tuesday at $16.46 per ounce.