GOLD PRICES jumped at the start of New York trade Tuesday, reaching new 2-week highs in London's wholesale market as commodities also rose together with global equities and emerging-market bond prices amid fresh news of growing inflation.
Silver and
platinum prices
also rose sharply as gold hit $1240 per ounce, its highest Dollar value since 2 March.
Gaining 1% from last week's finish, gold prices have so far defied the continued drop in ETF holdings – now totalling 7 from March's 14 trading sessions to date for the
giant GLD trust fund
, its worst run of outflows of 2017 so far.
After Germany's
industrial product prices
  yesterday showed their fastest annual inflation since 2011, the UK's official data agency today reported the fastest rise in its Consumer Prices Index since 2013 at 2.3% per year.
Used to benchmark state pensions and benefits, as well as many private-sector wage increases, CPI inflation accelerated for the fourth month running, something not seen since the global financial crisis peaked in summer 2011, when Sterling gold prices also hit their current all-time high near £1200 per ounce.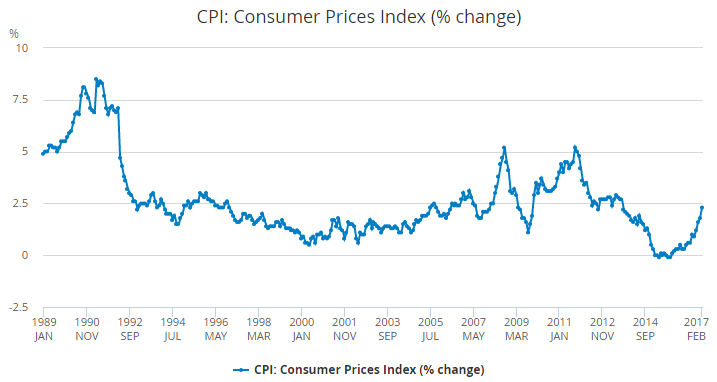 Moving inversely to London's FTSE100 once more – the only major world share index to fall Tuesday morning – the British Pound jumped 1 cent against the Dollar and hit a 2-week high versus the Euro.
It also pushed the gold price in Sterling over £11 below Monday's brief spike to £1000 per ounce, made when the UK Government announced it will trigger Article 50 a week tomorrow, starting the 2-year countdown to Brexit from the European Union following last year's referendum, won 51.9% to 48.1% against.
UK government debt prices fell following the inflation news, nudging 10-year Gilt yields up to 1.26% as German, US, Swiss and Dutch bond prices also slipped.
French bond yields retreated, in contrast, after last night's televized debate ahead of April's first round of the general and presidential elections saw anti-Euro, anti-EU Marine Le Pen fail to impress pundits in Tuesday morning's press, with
no clear 'winner'
amongst the 5 candidates.
Gold's overnight weakness against the Euro – retreating briefly below €1140 per ounce – was "possibly due to yesterday's TV debate in France," says a note from German financial service giant Commerzbank's commodities team, "which flash polls suggest was won by the EU-friendly candidate Macron."
Smaller Eurozone and emerging-market bond prices also rose after the People's Bank of China reported the
strongest confidence survey in 3 years
amongst bankers and corporate bosses in the world's second largest economy.
US investment bank Goldman Sachs meantime said today it will start moving staff out of London
ahead of the UK's Brexit
from the EU.