GOLD PRICES fixed at Friday's benchmark auction in London with a gain of 1.4% for the first week of 2017, retreating from yesterday's 1-month highs as the US Dollar rallied following mixed US jobs data.
November's figure was however revised sharply higher, contrasting with the unchanged estimate from payroll services provider ADP in
its data release Thursday
.
Year-on-year, US wage growth meantime hit 2.9% on today's BLS data, the sharpest annual rise since spring 2009.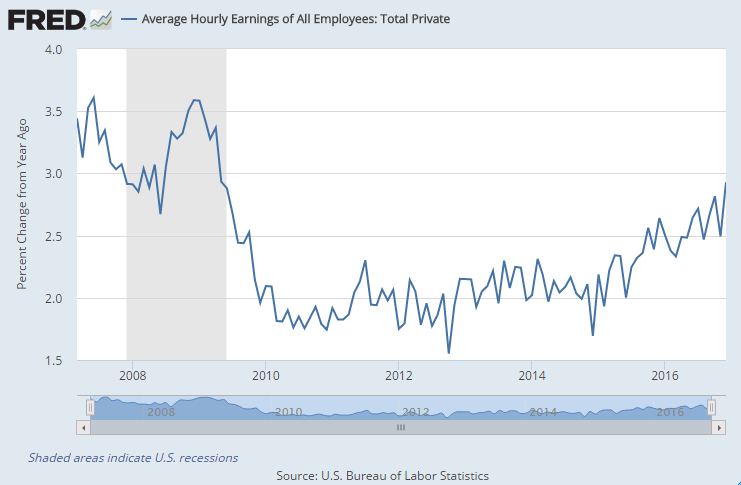 Gold prices traded around $1175 per ounce late Friday afternoon in London, some $10 below Thursday's high, while silver held at $16.25 – some 3.6% above last week's finish to 2016.
Yesterday saw the SPDR Gold Trust (NYSEArca:GLD) – the largest gold-backed exchange-traded trust fund – shrink even as bullion prices rose once again, with shareholders liquidating for the 27th in 38 sessions since Donald Trump won the US election, reducing the quantity of bullion needed to back the GLD's shares to a new 9-month low of 813.6 tonnes.
The GLD has now lost 15 tonnes – equivalent to almost 2 days of global gold mining output – since bullion prices bottomed at $1125 per ounce, their lowest in 10 months, on 20th December.
Since then, traders betting that prices would fall further after the Federal Reserve followed Trump's victory with its second hike to US interest rates have lost 10% on the
ProShares UltraShort Gold ETF
(NYSEArca:GLL).
"Most factors that boosted precious metals in the first half of last year are very likely to remain relevant throughout 2017," says the latest
Precious Metals Weekly
from specialist analysts
Metals Focus
– "the most important [being] concerns [over] the Fed's interest rate policy."
"Despite the hawkish sentiment, nominal rates will almost certainly remain historically low…and negative in real terms [with] inflation creeping up, albeit modestly."
Politically meantime, US president-elect Donald Trump's victory "is still, on balance, seen as a positive towards US growth," says Metals Focus, "[but] we believe that eventually the new President's 'wild card' approach will proliferate global uncertainties…boost[ing] safe haven demand.
"Finally, in our view there remain significant risks of equity market corrections."
Global stock markets held flat overall on Friday, keeping New York's
S&P500 index
on track to start 2017 with a 1.4% weekly gain.
Government bond prices retreated after the US wage data, however, pushing
10-year US Treasury yields
5 basis points higher from yesterday's 1-month low of 2.35%.
Noting the retreat in both US bond yields and the Dollar so far in 2017, "We think this is probably a false dawn for gold," says analysis from Chinese-owned bullion clearer ICBC Standard Bank today.
"A more sustainable turn is likely to have to wait until mid-year," says ICBC Standard's precious metals strategist Tom Kendall, by when he expects disappointment with Trump, plus a new argument over needing to raise the US federal government's debt ceiling limit, to "dominate the news flow."
The most
bullish 2016 average price forecaster
by $20 per ounce at $1225, analyst Joni Teves of Swiss financial group and bullion bank UBS was today declared the winner of last year's predictions competition for the London Bullion Market Association.