LABOR DAY 2018 saw global gold bullion prices edge back to $1200 per ounce in quiet trade on Monday, down 0.3% for the day, as US markets stayed closed for the end-of-summer holiday.
Silver slipped 3 cents per ounce to $14.51 by mid-afternoon in London as
platinum prices
added 50 cents from Friday's finish to trade at $788.
Betting against silver prices by hedge funds and other 'Managed Money' traders last week grew for the 4th week running on Comex futures and options, approaching April 2018's record-heavy levels according to US regulator
the CFTC's data series
.
Managed Money betting against platinum meantime reached a new record, with that group's bearish positions outnumbering its bullish bets for the 21st week in succession.
Comex gold contracts have, over the last 10 years, seen the Managed Money group of traders average a positive weekly bet equivalent to $16.2bn of metal.
That fell to a negative bet worth a record $9.4bn in mid-August, before easing to -$8.4bn last week.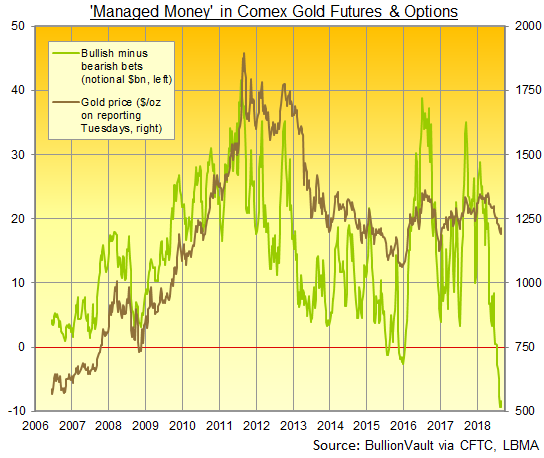 As gold prices fell last month, imports of gold bullion to No.2 consumer nation India through the key hub of Ahmedabad
rose to an 8-month high
, the
Times of India
reports.
Year-on-year comparisons would be skewed however, says Haresh Acharya – national secretary of the Bullion Federation of India – by August 2017's weak levels, hit by last year's implementation of new GST sales tax.
Following August's rise, and despite the looming Hindu wedding and festival season, "Jewellers are [now] cutting purchases," one news-wire quotes a dealer in Mumbai.
US gold jewelry demand overall last Christmas hit its strongest quarterly levels since at last 2010,
according to data
compiled by specialist analysts Metals Focus for the mining-backed World Gold Council.
In the year to end-June 2018, total sales rose 9.3% from the previous half-decade average, totaling more than 126 tonnes.
US gold bar and coin demand, in contrast, fell 61% from its prior 5-year average to total just 26 tonnes on Metals Focus' data.
Meantime in No.1 consumer market China on Monday, premiums above London quotes for bullion landed in Shanghai rose towards $8 per ounce, just shy of typical levels after sliding below $3 earlier this summer.
London's official proposal for a Brexit deal
is simply unacceptable
, the EU's chief negotiator Michel Barnier says.