GOLD PRICES edged back Friday lunchtime in London, cutting this week's gain to 0.5% as world stock markets rose and crude oil rallied but held below this week's approach of May's 3.5-year highs.
Russia joined Turkey in raising its key interest rate, making the
first such move since 2014
and helping the Ruble recover almost 4% from this week's 2.5-year low versus the Dollar on the FX market.
Silver fell back to unchanged for the week at $14.21, but platinum prices held firm to trade 3.4% above last Friday's finish at $809 in US Dollar terms.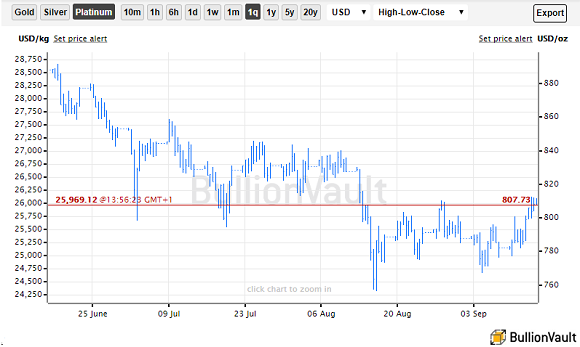 The Indian Rupee also rallied Friday after hitting fresh record lows versus the Dollar this week, gaining alongside Mumbai's stock market as inflation in the No.2 gold consumer nation showed a slowdown to a 4-month low of 4.5% and the Finance Ministry said it
will do "everything possible"
to stem the currency's plunge.
Despite the ongoing wedding season and next month's start of Diwali however, domestic gold prices fell to a $2 discount per ounce versus bullion import prices, Reuters reports, suggesting poor demand.
"The market lost momentum due to the price rise," the newswire quotes Harshad Ajmera of JJ Gold House in Kolkata.
"Buyers are waiting for prices to fall below $1200."
Chinese gold premiums also slipped, falling from $7 per ounce over London quotes last Friday to finish today at $5.50 on the Shanghai Gold Exchange.
Alongside wholesale bullion, the SGE this week opened trading in Chinese Panda gold coin, calling it "an important measure to build an authoritative and fair commemorative coin trading platform."
Launched in 1982 and exempt from China's VAT sales tax in 2012, the Panda has become the 5th most popular bullion gold coin among collectors worldwide.
Already worth $6.3bn on the Shanghai market, Shandong (SHA: 600547) operates 12 mines producing almost 7% of China's world-leading gold output.
Chinese conglomerate Fosun International is
meantime looking to buy
London commodities broker Marex Spectron, Reuters says elsewhere – rumors denied by Marex.
Heart of the world's bullion market, London will fight the European Union's
push to impose VAT on commodity derivatives
traded through the City, the Financial Times says, with government officials standing by the UK's position on its Terminal Markets Order of 1973.
In physical supply, "a weaker Rand is lowering production costs" for platinum miners in South Africa,
says Bloomberg
– "good news for margins" but encouraging no "meaningful" cut in output as prices hold near 10-year lows "with top supplier Anglo American Platinum Ltd. even ramping up."
"About half of South African output is estimated to be unprofitable," says the newswire.