GOLD PRICES edged back up to $1280 per ounce on Thursday in London as world stock markets rose for the first session in six.
With gold prices trading just $10 per ounce above the 13-week closing low of week-ending Friday 3 November, so-called "junk bond" prices also rallied with equities.
US corporate bonds rated below investment grade gained 0.7% from yesterday's new 7-month low as measured by the SPDR Bloomberg Barclays High Yield Bond ETF (
NYSEArca:JNK
).
The sale had been squeezed into a sale of Post-War & Contemporary Art.
"This was a thumping epic triumph of branding and desire over connoisseurship and reality," the New York Times quotes one Manhattan art adviser.
Shares in Christies' competitor Sotheby's (NYSE:BID) today rose 2.9%.
BID fell almost 90% during the global financial crisis of a decade ago, having sunk previously ahead of the Tech Stock Bubble bursting in early 2000.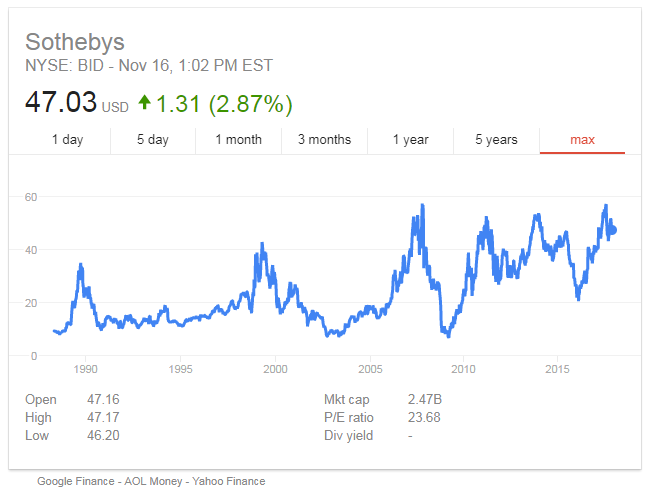 "Most of the world is well advanced in the economic cycle," says a new report from French investment bank Societe Generale, warning clients that "at the same time, leverage is high, especially on non-financial corporate balance sheets.
Should the US Fed continue raising interest rates, it says, a slowdown in economic growth will "put global debt back in the spotlight and have [a] spiralling effect.
"Historically [such] periods signalled a bull run for gold and [the stockmarket volatility index] VIX in particular."
The Dollar on Thursday held above yesterday's 1-month lows to the Euro currency as new US data showed industrial production in the world's largest economy rising just ahead of forecast in October.
Fresh Eurozone data showed a slight slowdown in inflation across the 19-nation currency union at 1.4% per year.
British retail sales meantime showed a smaller than expected decline last month from September's jump, helping Sterling to rally and curbing
the gold price in UK Pounds per ounce
below £970, barely changed for the week so far.
"The financial markets are bulging with systemic risk," says the
latest quarterly letter
from gold-mining fund manager John Hathaway to clients of Tocqueville Asset Management, pointing to "financial-asset valuations at all-time highs" while the size of US government debt now makes "exit from radical monetary policy difficult, if not impossible."
"History teaches that resolution of [such] impasses most often results in monetary debasement," says Hathaway.
"Gold and silver constitute a short list of non-financial assets with monetary characteristics."