GOLD held firm with silver and platinum prices on Tuesday morning, trading at $1234 per ounce as world stock markets followed Wall Street higher and commodities extended their rise after crude oil jumped on Opec's promise of extended production cuts.
With gold 1.6% above last week's 2-month lows versus the Dollar, the price of silver rose back above $16.70 per ounce, gaining 4.0% from last Tuesday's low.
Platinum prices
meantime held 4.3% above early May's new 2017 lows beneath $900 per ounce, trading at $935 in London's wholesale market.
Worth around one-twentieth the value of end-user demand for gold, the global platinum market will in 2017 see
its first surplus of supply
over demand after 5 years of deficits, according to refining and technology specialist Johnson Matthey.
Launching its latest PGM Market Report yesterday to mark the start of Platinum Week here in London, JM forecasts a surplus of 9.4 tonnes in 2017.
"The
only year this decade
that saw a sizeable deficit was 2014," counters independent consultancy Metals Focus, now forecasting a 9.8-tonne surplus in its new Platinum & Palladium Focus 2017, also launched at an event in the City on Monday.
Independent analysts SFA Oxford in contrast forecast another small deficit for 2017, narrowing to barely 2 tonnes on a 6% drop in global platinum demand and a 2% drop in supply.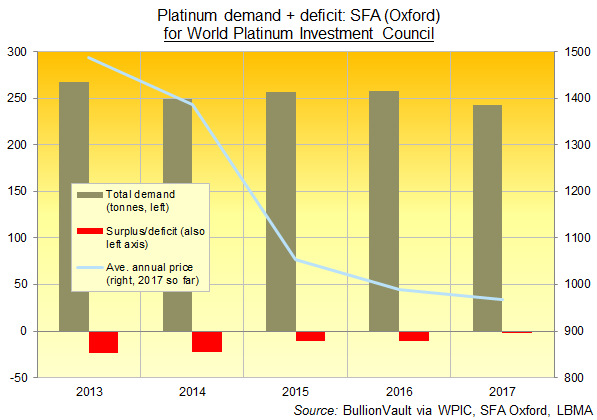 Presented yesterday by mining-backed market-development organization the World Platinum Investment Council, SFA's data recorded a deficit of 9.3 tonnes for
the first quarter of 2017
alone, driven by a retreat in Zimbabwe's mine output, plus an increase in mining producer inventories, held against the risk of future shutdowns.
"[The] fundamentals are offering up many reasons to consider and invest in physical platinum," says Paul Wilson, CEO of WPIC, adding that automotive demand for platinum in diesel-engine catalysts remains robust, particularly in Western Europe.
"This will surprise some investors given the continued media coverage related to the banning of diesel vehicles from city centers."
Officials in world No.2 gold consumer India are meantime looking at the launch of an official bullion exchange,
according to a senior industry figure
, aimed at formalizing the country's huge gold sector.
"We are working on a gold exchange for India," Bloomberg quotes P.R.Somasundaram of the mining-backed World Gold Council. "The finance ministry has formed a gold committee."
India's gold jewelry sector – perhaps employing 3 million people on some estimates – faces tighter profit margins and possible closures however on this summer's standardization of General Sales Tax across India, warns an industry leader.
Risking a move by consumers into the 'grey market' if set above 2%, "Once GST is in place, the jewelry
wholesalers will get eliminated
," reckons Surendra Mehta, national secretary of the Indian Bullion & Jewellers Association.