GOLD PRICE gains of 1.6% from last week were again erased Friday in London, as the outlook for interest-rate hikes trumped new geopolitical tensions led by another weapons test by the pariah state of North Korea.
Dollar priced-gold retreated to $1325 per ounce – more than $30 below last Friday's 12-month high – as major government bond prices fell yet again, driving US Treasury bond yields up to their highest since mid-August above 2.20% on 10-year debt.
Spain's finance ministry meantime won a court order to
take control of financial payments
by the regional government in Catalonia, where a referendum on independence – deemed "illegal" by Madrid – is scheduled for 1 October.
"Today's trading has been surprisingly uneventful given the news from North Korea this morning," says a trading note from Swiss refining and finance group MKS Pamp's Asian team.
Most notably, "the SGE premium has pulled back a little from yesterday," MKS says of benchmark Chinese prices, "to trade between $2-4 over loco London prompting some selling out of China" – the world's No.1 mining, consumer and importing nation."
The
UK gold price in Pounds per ounce
meantime slid to a 5-week low Friday, down almost 6% from last week's 10-month high as Sterling continued its rally after the Bank of England yesterday hinted it may need to raise its key rate – now at a all-time record lows of 0.25% – "by a
somewhat greater extent
…than current market expectations."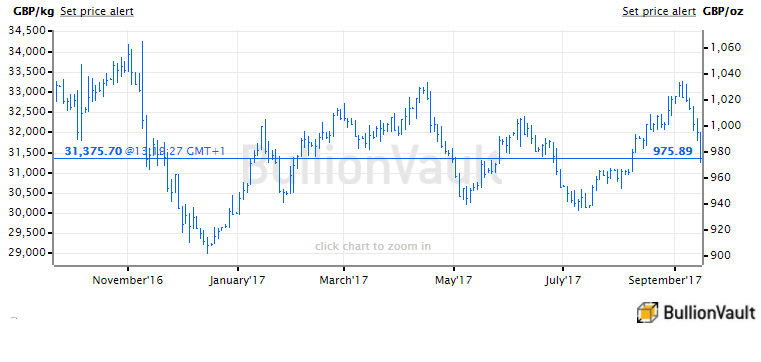 Since late-August the Pound has now jumped 6.4% against the Dollar, recovering levels last seen on 24 June 2016 – the day of the
UK's shock Brexit referendum
 result – at $1.36.
Today's jump in Sterling saw London's stockmarket fall for the 4th day running, with the FTSE100 index of primarily international businesses losing 1.2% as other European equities held flat.
Trading in US interest-rate futures now puts a near-99% certainty on the Fed holding unchanged next week, but betting on a November hike has risen from zero to 4% over the last week, and betting on the
end of 2017 now sees a 53% chance
of rates being higher than now – up from barely 30% at the start of this month according to the CME's FedWatch tool.
The gold price in Euro terms also fell to 2-week lows on Friday, dropping back to €1106 per ounce, a new low for September so far.