GOLD PRICES dipped to $1225 per ounce in London Friday morning, rallying $5 by lunchtime but heading for the metal's first weekly loss in 5 as bond prices also fell further ahead of US Federal Reserve chair Janet Yellen giving a speech on the outlook for Dollar interest rates.
Falling to $17.64 per ounce, silver also reached new 3-week lows, extending Thursday afternoon's slump when it lost two-thirds of a Dollar inside 2 hours amid the drop in bond prices, which drove longer-term interest rates higher.
Business activity across the 19-nation Eurozone
expanded the fastest since spring 2011
in February according to this morning's Markit PMI surveys, but retail sales for January and Italy's GDP for end-2016 both came in below analysts' forecasts.
"Yet again the bond sell-off has dragged gold away from the steep up channel in place since last December," says a note from the technical analysis team at French investment bank and London bullion market-maker Societe Generale.
Peaking at the top of the upwards channel running since mid-January, gold's rally also "petered out at the 200-day Moving Average at $1264," says SocGen, now "breaching [the bottom of] the up channel at $1230/1236."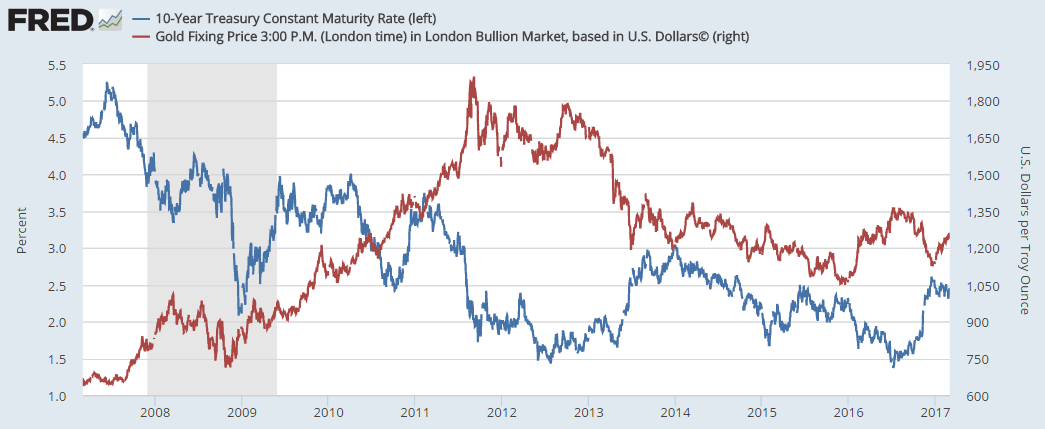 US Treasury bond prices fell again on Friday, driving the yield offered to new buyers of Washington's 10-year debt up to a 3-week high of 2.49%.
Ten-year yields hit a record low of 1.37% last July, immediately after the UK's shock Brexit referendum result.
As 10-year yields then surged to 2.60% by mid-December's interest rate hike from the Federal Reserve, gold prices retreated 19% from their 2-year high of $1375 per ounce.
"A definite close below $1236 will ensure further leg of down move towards $1220/1200," reckons the SocGen team.
Early buying in Asia on Friday "squeezed the market to the day's high of $1236 in the early hours," says a note from Swiss refining and finance group MKS.
"[But] the rally proved short-lived as gold was sold down to test the previous nights low.
"Market focus [now] will be on Fed Chair Yellen's economic outlook speech in Chicago."
Crypto-currency Bitcoin – which fell by 75% within 1 year of its 2013 peak – meantime rose to new all-time highs at $1293 having
overtaken the price for 1 ounce
of gold for the first time on Thursday.
That took the total value of all BTC created since Bitcoin's invention in 2009 to $20.9bn
according to CoinDesk
.
London bullion's 5 clearing members transferred that much value between them in gold 
every day on average
in January according to data from trade association the LBMA.
US stock markets were set to record their
6th consecutive weekly rise
as New York opened today, the longest run of gains since December 2014, despite slipping amid Thursday's bond sell-off.
With Europe's benchmark Brent crude oil rising back above $55 per barrel, broad commodity indices rallied Friday, but headed for their 3rd consecutive weekly drop on the Reuters/Jefferies CRB index.