GOLD PRICES retreated Wednesday lunchtime amid Dollar index rise ahead of FOMC minutes released later today.
Gold slipped down 0.7% from yesterday's high of $1358.10 per ounce to $1348.41.
The FOMC minutes are due at 6 p.m. GMT and are likely to reveal a Fed that sees fewer hurdles to an interest rate hike. In its post-meeting statement on July 27, the Federal Open Market Committee said "Near-term risks to the economic outlook were diminished."
Yesterday New York Fed President William Dudley said the Federal Reserve could potentially raise interest rates as soon as next month as reported on Fox Business.
"We're edging closer towards the point in time where it will be appropriate, I think, to raise interest rates further," Dudley then answered to the question whether the FOMC could vote to raise the benchmark rate at its next meeting Sept. 20-21, "I think it's possible."
Atlanta Fed President Dennis Lockhart also said he has confidence in the outlook for the U.S. economy and, as a result, wouldn't rule out "at least one" interest rate hike this year in a speech to the Rotary Club of Knoxville, Tenn., on Tuesday.
"Early indications of third-quarter GDP growth suggest a rebound. I don't believe momentum has stalled."
SPDR Gold Trust (NYSEArca:GLD) increased 1.8 tonnes on Tuesday to 762.23 tonnes after losing 11.9 tonnes on Monday, which was the largest 1 day outflow since 12th July 2016.
The SPDR Gold Trust is up 27% year to date and hit a two-year high of 982.72 tonnes in early July.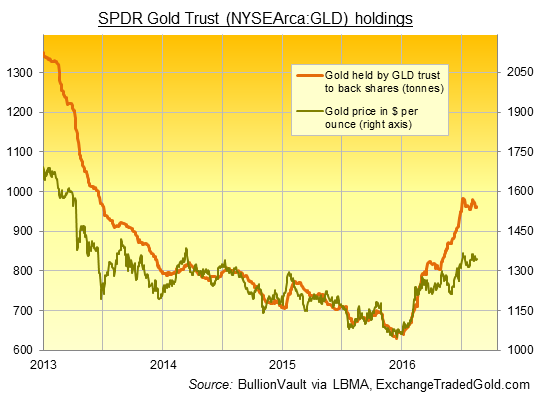 A number of big-name hedge fund managers have cut back their exposure to gold during the second quarter according to their latest quarterly 13-F filing with the Securities and Exchange Commission (SEC) published on Monday.
Stanley Druckenmiller, who runs Duquesne Capital, closed his entire position in the SPDR Gold Trust, which had been his fund's biggest allocation. Druckenmiller still owns just over 1.82 million shares of Barrick Gold.
George Soros, who runs Soros Fund Management, also closed a position on the SPDR Gold Trust that he had bought in the first quarter in the form of call options on 1,050,000 shares. However during the second quarter, Soros did buy 240,000 shares of the SPDR Gold Trust, a position valued at $30,365,000 by the end of that quarter.
While Soros increased its bearish bet on the stock market, he also cut back his stake in Barrick Gold, selling 18,348,235 shares in the second quarter. At the end of the quarter he held 1,071,074 million shares of Barrick Gold, a position worth just over $22.8 million.
John Paulson, the founder of Paulson & Co. maintained his holding, of 4.8 million shares of SPDR Gold Trust.
In line with George Soros, Lord Rothschild, chairman of RIT Capital Partners, is pessimistic on the outlook for financial markets and has moved to reduce the trust's exposure to stock markets from 55 per cent to 44 per cent since the start of the year.
Some of the proceeds have been used to buy gold and other precious metals, which, at the end of June accounted for 8 per cent of the £2.8 billion portfolio according to the trust's half-year results, released yesterday.
Asian shares have stepped back from a one-year high. MSCI's broadest index of Asia-Pacific shares outside Japan dipped 0.05 per cent on Wednesday while Japan's Nikkei rose 0.4 per cent, paring some of Tuesday's sharp losses as USD/JPY dipped under 100.
European shares pulled back yesterday from last week's 7 week highs with the FTSE100 down 0.19%, Dax down 1.01% and CAC down 0.55%.
Crude oil price halted its advance after the biggest four-day gain ahead of FOMC minutes today. After preliminary data from the American Petroleum Institute showed a surprise build in U.S. gasoline stocks yesterday, the prices sharply pared gains.
The yield on benchmark US 10 year Treasuries note was little changed at 1.58%, after climbing six basis points over the previous two days, amid hawkish comments from New York Federal Reserve President William Dudley and better-than-expected industrial production data outweighed softer inflation data.