GOLD PRICES held little changed in Dollar terms alongside global stock markets on Wednesday, trading back in line with last week's finish at $1204 per ounce as commodities rose together with longer-term interest rates on major government bonds.
Tuesday's rally in US
gold prices
failed to stop the giant SPDR Gold Trust (NYSEArca:GLD) suffering more net redemptions as shareholders quit the stock.
Shrinking for the 14th trading day of 20 so far in August, the GLD ended last night needing fewer than 760 tonnes of bullion backing – the smallest quantity in 30 months.
Gold prices in India – the metal's No.2 consumer nation, now about to enter its peak demand season of post-harvest weddings and the Diwali festival – today edged back as the Indian Rupee bounced from its new all-time record lows versus the Dollar.
"The last month was slow owing to high [Rupee] prices [but now] Indian prices are also dropping and customers are buying earlier."
"Wedding buying has already started," agrees another jeweler.
Last Sunday marked the Hindu festival of Raksha Bandhan, celebrating family and often involving
gifts including gold
.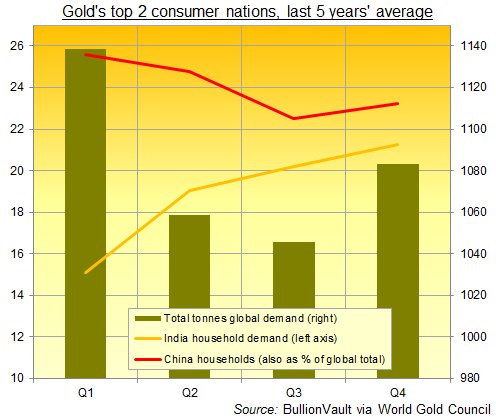 India's heaviest single gold-buying state of Kerala, however, was hit last week by the worst flooding in a century in India, with perhaps 450 dead and electricity still cut off for 80% of the population.
"The usual spend of 200 grams to 1 kilogram of gold per wedding in Kerala may drop 50% in the next month," Bloomberg quotes B. Govindan, president of the All Kerala Gold & Silver Merchants Association.
Household borrowers in the disaster-hit state may meantime find
a "sympathetic view"
on their gold-loan repayments,
The Economic Times
says, reporting initiatives among major lenders.
"Kerala accounts for 6.4% of our total gold loan portfolio," says Manappuram Finance's managing director V.P.Nandakumar,
forecasting a rise
in gold selling or pledging by families needing to raise or borrow money after the flooding.
"We will be promoting loans with zero processing fees," says smaller lender Unimoni, also extending loans with longer terms out to 360 days in Kerala – typically the in No.2 global consumer India.
Looking ahead to Diwali – which falls in early November 2018 – digital payments service Paytm forecast yesterday that its gold gifting app
will see 1.5 tonnes of transaction volume
over India's upcoming festive season, claiming a 70% share of the digital market.
India's total household gold demand between October and December has averaged 230 tonnes across the last 5 years
according to data
compiled by specialist analysts Metals Focus for the mining-industry backed World Gold Council.
Already backed by Japanese telecoms giant Softbank and China's Alibaba retail and banking empire, Paytim's parent company One97Communications is
also now part-owned
by US investment legend Warren Buffett's Berkshire Hathaway.