GOLD PRICES held in a tight $5 range around $1213 per ounce Tuesday morning in London, moving sideways against a weaker US Dollar as commodities edged higher and Donald Trump issued a warning to other countries over doing trade with Iran – now back under US sanctions over its nuclear research program.
With gold prices barely $10 above last week's 12-month lows, world stock markets followed Wall Street higher, adding over 2.9% to China's main equity index as the Yuan extended its rally versus the Dollar on the currency market.
Trump's warning to other countries over the re-applied US sanctions was met by
what the White House called "propaganda"
from Tehran, where Iranian President Hassan Rouhani said "I don't have preconditions [for talks]. If the US government is willing, let's start right now." 
The Iran sanctions have officially been cast. These are the most biting sanctions ever imposed, and in November they ratchet up to yet another level. Anyone doing business with Iran will NOT be doing business with the United States. I am asking for WORLD PEACE, nothing less!

— Donald J. Trump (@realDonaldTrump) August 7, 2018
Despite the rise in trade and geopolitical tensions, investment in gold-backed trust funds shrank by 1.6% in July new data showed today, pulling their value down to $94 billion, the lowest in 12 months.
"Gold price performance was a large contributor to [those ETF] outflows," says the mining-backed World Gold Council, posting the figures as a PDF, "as it fell over 2% in US Dollar terms."
Private investors, in contrast, grew their physical bullion holdings at the fastest pace since December
according to data from BullionVault
this morning, with major coin fabricators also reporting a sharp rebound in business during July's price drop.
The largest gold-backed ETF, the giant SPDR Gold Shares (NYSEArca:GLD), yesterday shrank again, reduced by 0.8% as investors sold once again.
That took the amount of gold needed to back the GLD's value down to a new 12-month low at 788 tonnes.
The GLD peaked in size with 1,353 tonnes at end-2012.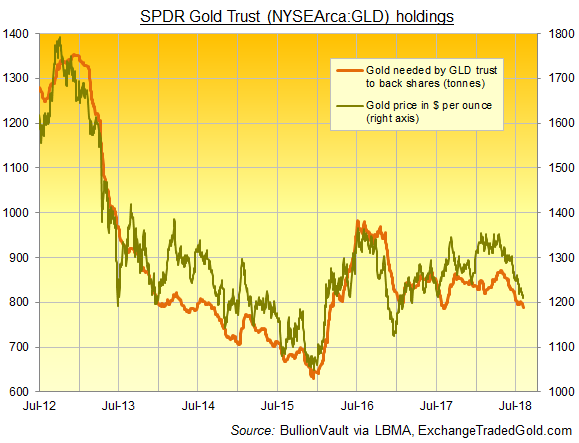 Silver's largest ETF product has also bucked the trend in gold-backed trust funds, with the iShares Silver Trust (NYSEArca:SLV) ending Monday at its largest size in almost a year to need 10,274 tonnes of bullion.
Silver outperformed gold prices in London on Tuesday, edging above last week's finish to trade at $15.46 per ounce.
Platinum prices
also recovered Monday's drop, adding 1.9% to near last week's peak around $840.
The Chinese Yuan meantime extended its rally from Friday's new 15-month low, adding 1.0% versus the Dollar on the forex market.
Shanghai prices held unchanged in Yuan terms, showing a premium to London quotes of $4 per ounce – less than half the typical incentive for new bullion imports into the No.1 consumer market.