GOLD PRICES fell again versus a rising Dollar on Friday in London, heading for a 1.3% weekly drop at new 2018 lows beneath $1240 per ounce as the US currency pushed higher on the FX markets amid President Donald Trump's ongoing tour of Europe.
After telling
The Sun
tabloid newspaper that UK Prime Minister Theresa May's proposed post-Brexit deal with the European Union "will probably kill" any chance of a new free-trade agreement with the US, Trump today told reporters that their relationship is
"very, very strong"
.
Also telling
The Sun
he thinks pro-Brexit ex-minister
Boris Johnson "has what it takes
to be a great prime minister," Trump said he told May "how to do [the EU deal] but she didn't agree, she didn't listen to me.
"I would actually say that she probably went the opposite way. And that is fine…But it is too bad what is going on."
Calling the European Union's stance on trade and Nato defense spending
"very unfair"
throughout his tour of the region this week, Trump will "never, never,
never divide the EU member states
" said France's Finance Minister Bruno Le Maire this morning. 
Imports into China meantime rose 14.1% year-on-year in June according to new data – sharply down from May's 26.0% rise – while exports beat analyst forecasts with 11.3% growth.
That pushed China's monthly trade surplus with the United States to a new record, reports Bloomberg, reaching almost $29 billion.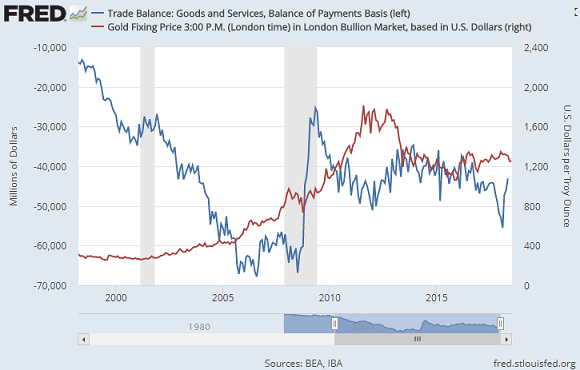 "We don't think [the trade war] craters the global economy unless it continues to escalate," Bloomberg quotes Saad Rahim, chief economist of metals and oil-trading giant Trafigura Group.
Copper prices – often seen as an indicator of global growth – have now fallen 15% over the last month to reach 1-year lows.
Shanghai gold prices meantime ended the week unchanged from last Friday even as the Yuan fell to new 11-month lows versus the Dollar on the FX market.
That held the premium for metal landed in China – the metal's No.1 consumer nation – below $5 per ounce versus London quotes, barely half the typical incentive for new imports of bullion.
While
private-investor demand for gold has leapt
this week on the drop in gold prices, the world's largest gold ETF – the SPDR Gold Trust (NYSEArca:GLD) – has shrunk almost 1% over the last week as shareholders have sold the stock.
That has pulled the quantity of bullion needed to back the GLD down to an 11-month low at 795 tonnes.
This week's 2.3% drop in silver prices, in contrast, has seen the white metal's No.1 ETF expand by 0.5% since Monday.
The iShares Silver Trust (NYSEArca:SLV) ended Thursday needing 10,163 tonnes of bullion backing, the most since summer 2017.
Silver prices
traded back down to last week's new 2018 lows beneath $15.80 per ounce on Friday, heading for a 1.5% weekly drop.