GOLD PRICES held $10 per ounce higher for the week so far at $1253 Wednesday lunchtime in London as world stock markets traded flat overall and the British Pound whipped on the currency market as the UK Government formally notified the European Council of its intention to leave the EU following last June's Brexit referendum.
Commodities ticked higher, pushing European benchmark Brent crude oil further above $51 per barrel, while major
government bond prices
also rose, nudging 10-year German and UK yields 3 basis points lower to 0.35% and 1.16% respectively.
The Pound has fallen by 15% since last June's Brexit referendum on quitting the 28-member state EU, and
almost halved against the Dollar
since the UK joined what was then a 9-member union in 1973.
Gold priced in Sterling today spiked to a 4-week high of £1010 per ounce, higher by more than one-third from the start of 2016, before ex-prime minister David Cameron set a date for the UK referendum which then saw 17.4 million people
vote to leave on 23 June
, more
than have ever voted for one
political party or single decision in any UK ballot.
"There can be no turning back," said Prime Minister Theresa May to the UK Parliament today, promising to "take control of the things that matter most to us."
"Dear Brits, ze door is schtill open," answered an
editorial already published
on the front page of Germany's
Die Welt
in mock-accented English, urging "the EU's second largest net contributor [to] correct this historical mistake."
Data meantime showed the giant GLD gold ETF shrinking again on Tuesday, the 9th liquidation in 20 trading days this month by shareholders of the $33.6 billion trust fund.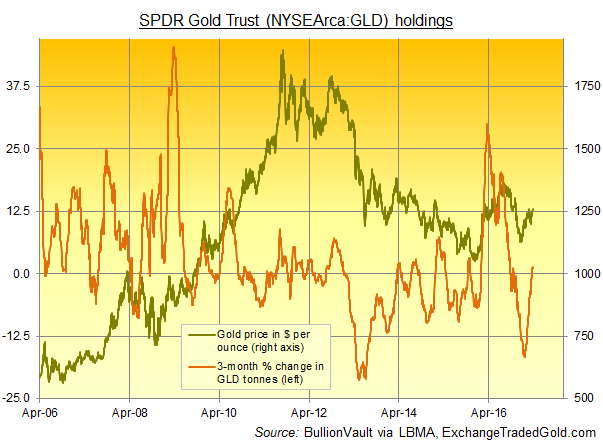 Taking the GLD's gold bullion holdings down 1.8 tonnes to 833.5 – equal to around 100 days of global gold mining output – such liquidations have been 45% more frequent in March 2017 than during the previous 12 months.
The
SLV silver ETF
in contrast has now reversed one-third of March's earlier 160-tonne outflow to need 10,377 tonnes of bullion backing – equivalent to well over one-third of annual world silver mining output.
Silver prices today held shy of Tuesday's near 4-week high but rallied to $18.15 per ounce in London trade, keeping its year-to-date gains at 14.0% in Dollar terms.
That beats gold's 8.7% gain for 2017 so far, as well as major-asset leader emerging-market equities (up 12.5%) and Eurozone stock markets (up 8.8%) on
data from Reuters
.
"We are leaving the European Union, but we are not leaving Europe," says May's UK letter to the EC's Tusk, proposing seven "principles…to agree terms" such as "engag[ing] constructively and respectfully [and] giving as much certainty as possible."
May states that the UK "does not seek membership of the single market…[and so British companies] will have to align with rules agreed by institutions of which we are no longer a part – just as UK companies do in other overseas markets."
Forty-five per cent of UK exports went to other EU member states
on the latest data
, worth some £12.8 billion in January and 22% higher from the same month last year.
Imports from EU members were greater, totalling £19.5bn – some 17% higher from January 2016 – and £0.9bn larger than imports to the UK from non-EU states.