GOLD PRICE losses of 1.1% for the week were trimmed in London trade Friday, with the metal rallying $3 from 3-week lows at $1252 per ounce as industrial and energy commodities also bounced.
World stock markets rallied, but London's FTSE100 held on course for a 1.0% weekly loss.
Ahead of the New York open, the tech-heavy Nasdaq index was also set for back-to-back weekly losses – only its second such fall since Donald Trump won the US presidential election last November.
Crypto-currency Bitcoin also rallied, gaining 0.4% after its sharpest drop in 2 years knocked BTC more than 20% below last weekend's new all-time high.
Gold prices headed for their
worst weekly drop since start-May
, shedding over $18 per ounce from last Friday morning – the day of the UK's "hung parliament" election result, followed by ruling Conservative prime minister Theresa May forming a minority government with the backing of Northern Ireland's DUP, a deal for which
there is "no deadline"
according to the Ulster unionist party's deputy leader today. 
Brexit negotiations with the European Union, as well as the Queen's Speech opening the new session of Parliament will begin next week.
"I'm as much in the dark as anyone else [about Brexit]," said the Queen's middle son,
former UK trade representative
Prince Andrew, to journalists today.
"[But] you may lose one thing [while] you may gain something else…The world is your oyster."
Having seen investors
"load up on"
exchange-traded funds backed by gold last week, the largest such product – the SPDR Gold Trust (NYSEArca:GLD) – saw its sharpest liquidation since March in the week-ending Thursday, with shareholders cutting the fund's size by 13.3 tonnes from a 6-month high above 866 tonnes.
Together with the drop in gold prices, that wiped over $1 billion from the GLD's net asset value, down to a new low for June so far at $34.4bn.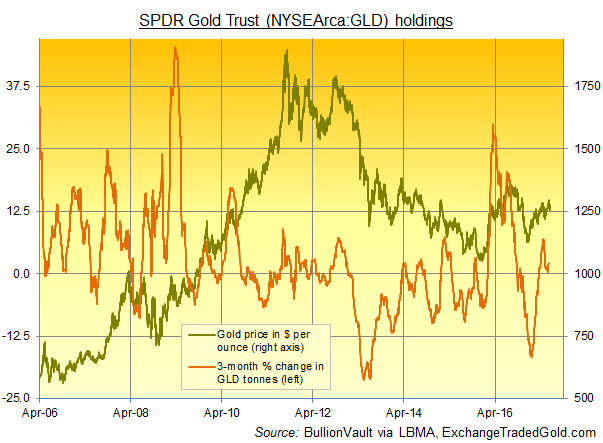 The largest silver-backed product – the iShares Silver Trust (NYSEArca:SLV) – also shrank this week, with shareholders liquidating 1% of the stock to need 10,457 tonnes of bullion backing.
Silver holdings for the SLV have now shrunk 2.2% from their 2017 peak of this time last month.
As today, the precious metal was then trading around $16.80 per ounce.
"Near term outlook is negative," says the latest Bullion Weekly Technicals from chart analyst Karen Jones at German financial group Commerzbank, saying that the silver price "has failed at the 55- and 200-week moving averages, and is under pressure."
Gold, in contrast, is set to rise on Commerzbank's charts, with a "bullish…longer term bias, but this will only be confirmed on a break and weekly close above $1295.79" – the April high which then coincided with the Dollar gold price's 6-year downtrend from its all-time peak of September 2011.
"Safe-haven buying has supported gold prices over the past six months, and rising geopolitical risks – particularly in the US – are likely to propel prices even higher."