GOLD PRICES edged higher for Dollar investors on Wednesday morning but slipped against the Euro and British Pound as the UK's ruling Conservative Party called a vote of no confidence in Prime Minister Theresa May and her handling on the Brexit process – set to see Britain leave the European Union 15 weeks from now.
Euro gold prices held below €1100 per ounce – yesterday's new 6-month high – as the single currency rose following stronger than expected Eurozone industrial data and flat US consumer-price inflation figures.
Rising $5 to $1246 per ounce, the gold price in US Dollar terms held $3 down for the week so far.
It has now averaged $1269 per ounce in 2018, adding 0.9% for the year after adding 0.6% in 2017.
Having
forecasted an annual average
price of $1312 for 2018, Chinese-owned bullion bank ICBC Standard now forecasts a 2019 price of $1293 and then $1300 in 2020.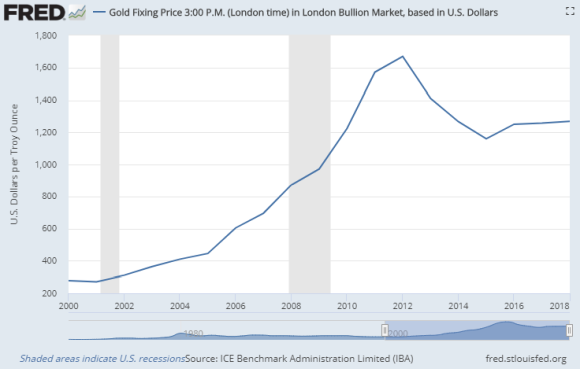 US financial services group Bank of America-Merrill Lynch meantime forecasts a spike as high as $1400 per ounce for next year, led by volatility in other financial assets.
"True, gold prices will not spike until there is a meaningful shift in some the recent market trends," BAML analysts explain.
"But we believe the spike in the VIX [index of US stockmarket volatility] is already setting the stage for that reversal, while the twin US trade and government budget deficits could come into focus as we head into 2019."
The New York-listed SPDR Gold Trust (NYSEArca:GLD) – the world's largest gold-backed ETF – yesterday grew 0.4% in size as investor demand expanded.
Needing 763 tonnes of gold to back its shares however, the GLD has barely changed in size since this time last month, back when gold prices were trading over $40 below today's level.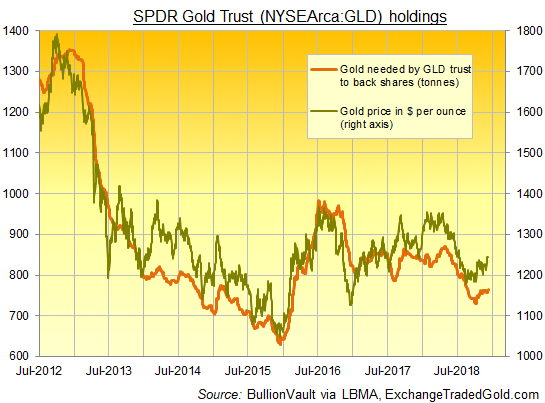 Back in London, and forced to cancel a meeting with Ireland's Prime Minister
Leo Varadkar
– part of her sudden tour seeking a renegotiation of the key "Irish backstop" and trade deal elements of her Brexit package – Theresa May today vowed to win her colleagues' support, warning that "the
only people whose interests would be served
" by a Tory Party leadership election this close to 29 March are avowed socialist opposition Labour Party leader Jeremy Corbyn and his shadow chancellor John McDonnell.
Gold prices fell however for UK investors as the Pound regained half this week's drop versus Dollar, slipping below £990 per ounce – a
15-month high when reached on Monday's decision
to cancel Parliament's key vote on May's Brexit deal with the European Union.
"The clock is ticking on a 'No Deal' exit," says one
spread-betting bookmaker
, "although there is now a higher chance that we could see Article 50 delayed to allow the UK more time."
UK government borrowing costs meantime rose on the bond market today, while the FTSE250 index of UK-focused businesses added 1.2% – lagging other European nation's domestic share indices – 
"For the moment we can
kiss goodbye to rationality
as sheer politics take over and the issues are consigned to the back seat," says long-time Brexit proponent and blogger Richard North, forecasting that the UK  "could end up with an unreconstructed 'ultra' knuckle-dragger" as Prime Minister, "although the 'no deal' outcome remains a possibility whatever happens.
"Just when we needed people absolutely focused, the Westminster bubble is set to take time out, and indulge itself."