GOLD PRICES erased a near-$10 rally from fresh 7-week lows in London trade Friday lunchtime as new US data put unemployment in the world's largest economy at a 16-year low.
Matching the lows of spring 2007 – just before the global financial crisis – that put the
US jobless rate
at its lowest level since spring 2001, just as the Tech Stock Crash preceded the United States' prior economic recession.
Bets on the US Federal Reserve hiking its key interest rate at the June meeting
jumped to show an 83% likelihood
from 68% only a week ago, while the Dollar spiked on the news, before falling hard to set new 6-month lows against the Euro. 
With French voters set to elect centrist Emmanuel Macron as President on Sunday, gold priced in Euros fell back to €1120 per ounce – the lowest since start February – as the Yen gold price struggled above 7-week lows.
Silver fell faster, reversing an overnight rally against the falling Dollar to erase almost the last of 2017's previous 17% gains at $16.33 just after the US non-farm jobs data.
Having retreated from its
6-year downtrend at $1295
per ounce in mid-April, gold meantime fell through what one bullion market-making bank's technical analysis team had called "an upward channel limit at $1233…[risking] a larger correction" if that gave way.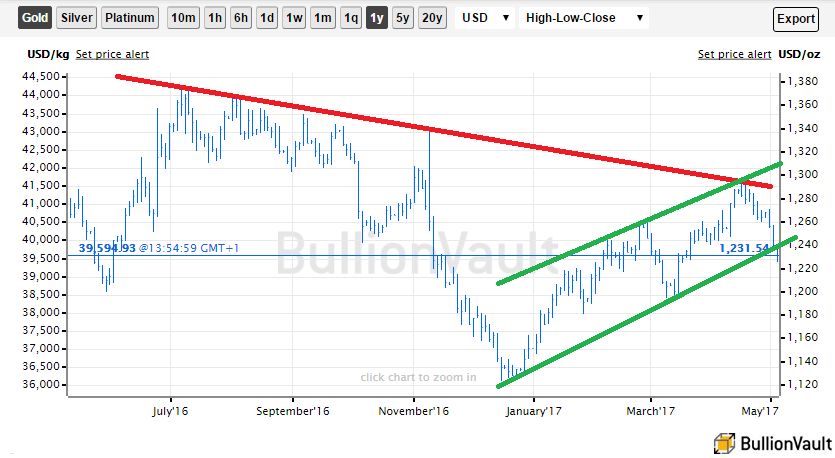 Friday's 10.30am benchmark gold price auction in London
met strong demand at that $1233 level
, finally finding a balance between the volume of buying and selling at $1239 per ounce – fully $4 above the average spot-market quote.
"Support now comes in at $1221.60," reckons the technical analyst on bullion-clearing bank Scotia Mocatta's New York team, pointing to the 100-day moving average of gold prices.
"I am bearish on gold, targeting the $1200 level."
Crude oil failed to join a broader rally in commodity prices Friday, negating "all of the gains achieved after OPEC and some non-OPEC countries decided to cut production" last November according to German financial group Commerzbank, which called this week's "price slide…excessive.
"We expect a stabilisation and countermovement."
World stock markets meantime edged higher, adding 2.1% to the EuroStoxx 50 index of major European equities ahead of Sunday's second and final round in the French presidential election.
"As far as I'm concerned, your [health insurance] premiums are going to come down."
Local election results in the UK meantime
showed a further swing
to the ruling parliamentary Conservative Party, suggesting to pundits that Prime Minister Theresa May "looks set for a huge landslide in the general election next month."