GOLD PRICES rose in Asian and London trade Wednesday morning, rising above $1345 per ounce for the 6th time in 2018 so far amid worsening US-Russia tensions over Syria.
Gaining 1.0% from the end of last week in US Dollar and Japanese Yen terms, the gold price rose less steeply for investors in other currencies.
"I would once again beseech you to
refrain from the plans
that you're currently developing," said Russia's envoy to the United Nations last night after US President Trump and French president 
Emmanuel Macron both spoke of using "force" against the regime of Bashar al-Assad for allegedly attacking civilians with chemical weapons at the weekend.
The Ruble has sunk this week, falling to its lowest Dollar value since late 2016 as the US imposes new sanctions against politically-connected oligarchs and businesses,
forcing Moscow to cancel
a new issue of government debt.
"An escalating trade war, political conflict with Russia and a continuing market slump are issues currently simmering," says a note from German-headquartered refiners Heraeus, "but should any one of them boil over they could create a swing into safe havens and precious metals."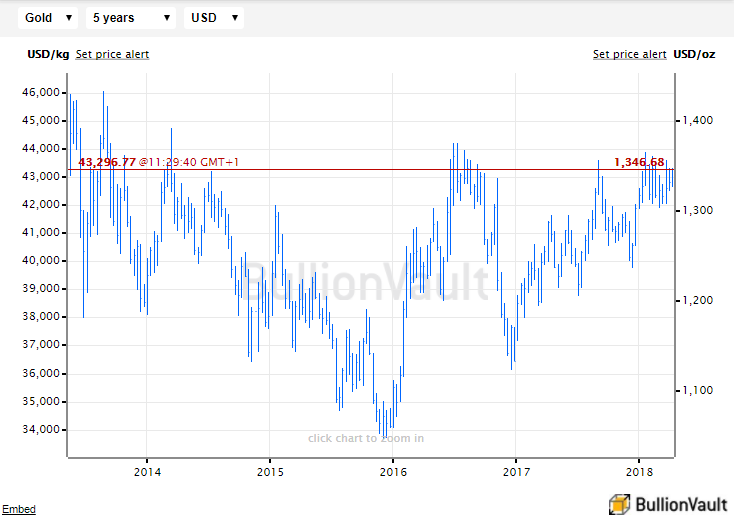 Despite Wall Street's overnight surge following Facebook CEO Mark
Zuckerberg's strong performance
before a Senate committee over his company's data protection failings, Asian stock markets slipped Wednesday and the Stoxx Europe 600 index fell for the fourth of 7 sessions so far in April.
Rising to €1087 per ounce, the gold price in Euros moved opposite to the direction of European equities for the 5th trading day of April to date.
"We've seen volatility risk in the stock market, and
geopolitical risk concerning
the situation in Russia and the Middle East," Bloomberg quotes Michael Blumenroth, analyst at German financial services group Deutsche Bank.
"People have become nervous in Germany so they were buying gold."
The rise in gold prices means No.2 consumer nation India in contrast is seeing weak gold demand, dealers report, despite the approaching festival of Akshaya Tritiya and the spring wedding season.
Discounts to global quotes yesterday rose to $2.50 per ounce in India's import hub of Ahmedabad, according to data from futures exchange NCDEX.
"[One] reason for the dismal demand," says the Business Standard, "is that rural unemployment is higher than a year ago…[up from] 3.6% to 6.27% now."
Urban unemployment is also higher in India, rising from 4.4% to 6.7% and also crimping the household sector's spending power.
Looking ahead, "We expect trade tensions to ease, the US Dollar to recover, the Fed to continue to hike rates and investor sentiment to improve," says
a bearish note
on bullion from Dutch bank ABN Amro.
"Therefore it is likely that gold prices will come under pressure."