GOLD PRICES set fresh 2018 lows for the third day running in London trade Thursday, dipping below $1286 per ounce as US bond prices continued to fall, pushing longer-term interest rates up to yet more 7-year highs.
The rising US Dollar also pushed the Euro currency back down near this week's drop to the lowest level since December.
Gold prices then rallied $5 as world stock markets gained, the Dollar edged back, and bond prices steadied – pulling 10-year US Treasury yields back down from 3.10% – on
a surprise rise
in the number of people starting to claim US jobless benefit payments.
Adjusted for market-expectations of inflation, the real 10-year yield has risen this week above 0.9%, a level touched on only one day since May 2011.
That day, in September 2013, saw gold prices extend a rally from the Spring's historic crash as
weak US jobs data then raised doubts
over the Fed's timeline for starting to 'taper' the size of its monthly quantitative-easing bond buying.
Real yields have shown a strongly negative relationship with Dollar gold prices over the last decade. On a 52-week analysis of weekly data, the median correlation – which would read +1.0 if they moved positively together – has been minus 0.7.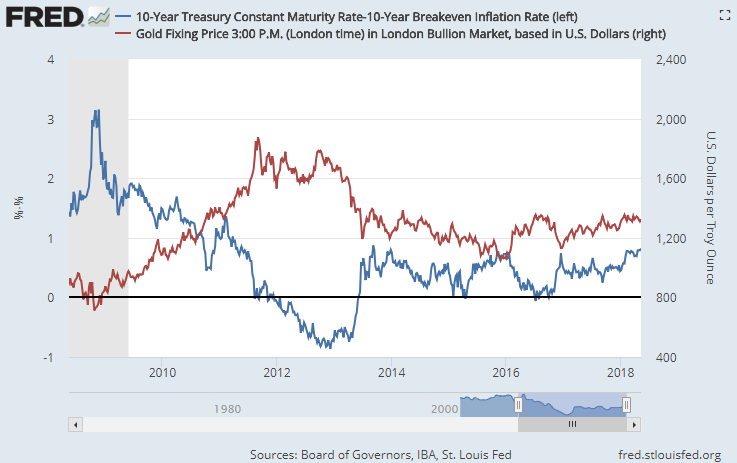 Tapering began in 2014 and new QE ended that October. Since the Federal Reserve Banks' total assets peaked in January 2015 at $4.5 trillion, they have now shrunk by $158 billion – some 3.4%.
Of that reduction, more than half has come in the first five months of 2018 as the central bank stops re-investing money from maturing US government bonds.
"[This] may not be tantamount to tightening," reckons senior IMF economist Manmohan Singh, but instead have "an easing effect [because] US Treasuries in the hands of the market, with reuse, are likely to lubricate markets [whereas] excess reserves have remained idle in recent years."
Should the Dollar continue this month's rise "gold prices might still have room to correct over the next few weeks," says a note from French investment and bullion bank Natixis' Bernard Dahdah.
But while Dahdah now forecasts a drop to $1260 in 2019's average gold price, "We think [Dollar prices] could pick up towards the last quarter of [this] year as the ECB preps the market for a normalisation of its monetary policy," he writes, "heading again towards the $1330 level."
Silver bounced harder than gold prices as New York opened for business on Thursday, halving this week's prior 2.9% drop to reach $16.47 per ounce, barely changed for May so far.
Platinum also rallied after dipping beneath $890 per ounce for the first time since mid-December.
Euro gold prices today held 1.5% below last week's 8-month peak, trading at €1093 per ounce.
Gold priced in Sterling has now halved the last 4 weeks' rise of 5% to trade at £955.