GOLD PRICE losses of more than 7% for the month of May held in London on Tuesday as trading in the metal's key Western markets re-opened after the long weekend following 'hawkish' comments on US interest rates from Federal Reserve chief Janet Yellen.
"It's appropriate for the Fed to gradually and cautiously increase our overnight interest rate over time,"
said US Fed chair Yellen
in an interview at Harvard University on Friday afternoon, adding that investors and traders should expect the next rise "in the coming months."
The Fed vowed to raise rates from 0% throughout 2015, finally acting at its last meeting of the year and then failing to follow up with any of the 4 further hikes then predicted for 2016.
European stock markets held flat Tuesday as bond yields ticked higher with commodity prices.
Gold rallied 0.9% to $1211.50 by lunchtime in London, down from start-May's 15-month peak at $1303 per ounce.
Ahead of Yellen's comments on Friday, speculative traders in US Comex gold futures and options had already slashed their "net long" position of bullish minus bearish bets by 22% in the week-ending last Tuesday,
new data showed
after last week's market close.
The deepest cut since gold prices set new 6-year lows in December, last week's retreat came in contrast after speculative traders had built a record net long position by the start of this month.
Even after May's one-fifth retreat, speculative net bullish positioning remained 3 times the last 20 years' average as of last Tuesday.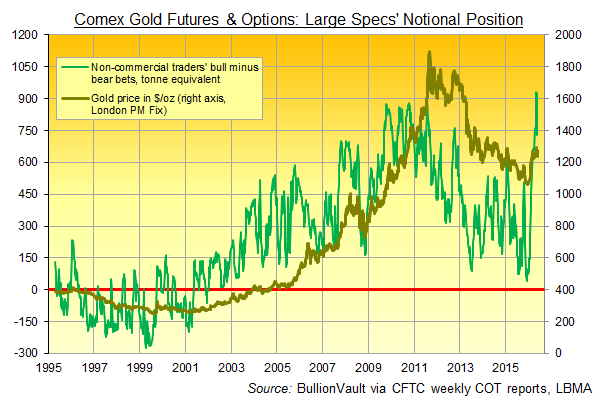 With London closed Monday for the Whit Bank Holiday and
New York shut for Memorial Day
, solid trading in Shanghai and then quiet trading in European hours saw gold priced in US Dollars slip beneath $1200 per ounce for the first time since mid-February.
Silver today fixed at London's midday benchmark auction at $16.06 per ounce, down for the 9th time in 10 sessions – a pattern seen only 35 times in more than 12,600 trading days since 1968.
Gold earlier fixed at the 10.30am LBMA benchmark at $1210.50 – the lowest gold price since late February, and marking the 7th drop in 10 days.
Silver prices have now fallen on 15 of the 20 trading days since the metal set a 15-month high at the LBMA benchmark auction of $17.855 per ounce.
Trading volume in Shanghai's main gold contract meantime retreated again from Friday's multi-week high as Yuan prices bounced from yesterday's trip to the lowest level since early April on a fresh drop in the Chinese currency's FX rate.
Beijing's monetary authorities today set the Yuan's mid-point versus the US Dollar at its weakest level in almost 5 years, with spot prices trading back at levels last seen just before February 2016's surprise revaluation.
That took the Yuan to its second-steepest monthly drop in a decade of market trading, according to the
Reuters data and news agency
, with "pessimistic bets on the Yuan [rising] to the largest since early February, according to a…survey of 20 fund managers, currency traders and analysts."
China's stock market, in contrast, jumped 3.3% – the fastest 1-day gain in almost 3 months – on what MarketWatch called "optimism" that Shanghai shares
may be included from mid-June
in the highly influential MSCI World Index of global equities, with US investment bank and brokerage Goldman Sachs putting the odds at 70% from an earlier 50% estimate.
But with 837 million people contributing, and 226 million retirees currently receiving payments, the rate of growth in spending was greater at 20% than the year-on-year growth of 17% in total income.
Tuesday's fresh fall in the Yuan buoyed
Shanghai's benchmark gold price
above CNY257 per gram – equal to $1215 per ounce at a near-$4 premium to London quotes overnight.