GOLD PRICES fell with the Euro currency to new 1-week lows against the Dollar in London trade on Thursday, dropping back to $1240 for the second day running as government bond prices fell yet again, pushing 2-year US Treasury yields up to the highest level in more than 7 years.
Commodities also dropped, and world stock markets retreated futher from last week's new record highs, after new data said claims for US jobless benefits fall to the
lowest level since 1973
.
Betting on US interest rates
now sees a 75% chance
of the Federal Reserve raising its key rate at this month's meeting according to data from the Comex exchange.
Two-year US Treasury yields rose to 1.32% according to Bloomberg data, the highest rate offered to new buyers since August 2009.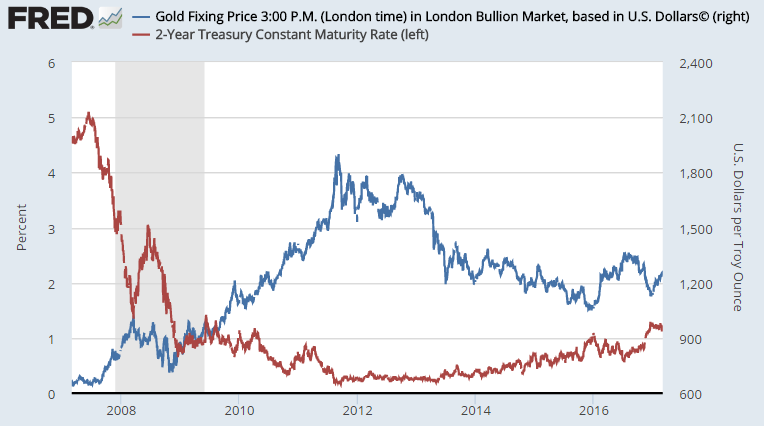 Stripping out the 9.2% annual rise in energy costs however, so-called 'core' inflation held unchanged at 0.9%.
Turning "neutral" on the short-term outlook for gold prices, French investment bank Societe Generale's Robin Bhar says that a "
more hawkish Fed
[is] offset by political uncertainties in the US and Europe.
"[Silver is] tracking gold movements closely, underpinned by copper strength."
Silver today retreated only to $18.31 per ounce from last week's finish at $18.37, holding firmer than gold prices as
copper also slipped
, down 0.9% for the day and dropping 2.5% from February's new 21-month highs.
The number of shares in giant silver-backed trust fund the iShares SLV product held unchanged yet again yesterday.
But after 7 trading days of no change, Wednesday saw the creation of 800,000 shares in the giant SPDR Gold Trust (NYSEArca:GLD), the world's largest ETF trust fund backed by gold.
That required an extra 2.4 tonnes of bullion to back the GLD's value to shareholders, taking the total to 843.5 tonnes – some 15% below last July's 3-year high.
Wholesale Chinese gold prices meantime held more than $11 per ounce above the global benchmark of quotes for London settlement, extending the strongest run of
Lunar New Year Shanghai gold premiums
since 2013.
The Ministry of Finance in India – the world's no.2 consumer nation behind China – is looking to approve its own
domestic spot bullion trading platform
sometime in 2017, reports the Economic Times, with a working group convened under its Financial Stability and Development Council now including competitor exchanges the BSE, MCX and NCDEX.
London-based base metals exchange the LME today said that
4 more banks are interested
in clearing its forthcoming LMEprecious futures contracts, due to be launched in 2017 in a joint venture with 4 market-making banks, gold vault owner and bullion clearer ICBC Standard Bank, a proprietary trading house, and the mining-backed World Gold Council.