GOLD PRICES fell near 1-week lows Wednesday in London, dipping beneath $1240 per ounce as US traders joined the session after Donald Trump's first speech to Congress about his fiscal plans was overshadowed by 5 senior Federal Reserve officials surprising the markets with a seemingly co-ordinated announcement that Dollar interest rates are set to rise at this month's central-bank meeting in 2 weeks' time.
Knocking the Euro down 1.5 cents from yesterday's 2-week highs, the Dollar rose fastest against the Japanese Yen, hitting 3-week highs.
That pushed the gold price in Yen up towards new 12-month highs ¥4550 per gram, some 10% above last October's retreat to 9-month lows, just before the election of Donald Trump as US president.
Betting on Comex Fed futures contracts jumped this morning to price a March hike
as a 69% likelihood
, up from 35% at Tuesday's close according to the CME's FedWatch tool.
Bloomberg data put the betting at 80% on according to a chart from Jonathan Butler at automaker and industrial conglomerate Mitsubishi.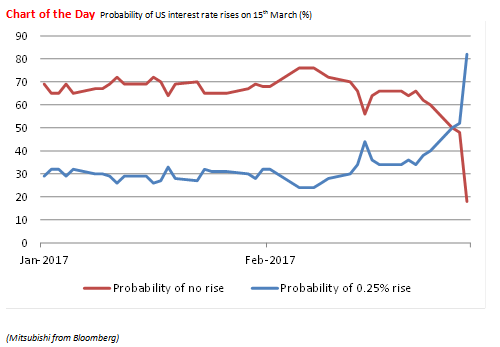 "We would be well-served taking the next step in the not-too-distant future," said Dallas Fed chief Robert Kaplan to the
Financial Times on Tuesday
.
"I see three hikes as appropriate for 2017," said Philadelphia Fed president
Patrick Harker in a speech
at Pennsylvania's Temple University.
A March rate rise is "
very much on the table
for serious consideration," said John Williams, president of the San Francisco Fed, speaking to business leaders in Santa Cruz.
"Putting the economic recovery in perspective, we've come a very long way."
"Data we've seen over the last couple months," agreed William Dudley, head of the New York Fed, in
an interview with CNN
, "is very much consistent with the economy continuing to grow at an above-trend pace.
Wednesday sees Fed governor and arch 'dove' Lael Brainard – one of chairwoman Janet
Yellen's top advisors
– give a speech on the 'Economic Outlook and Monetary Policy'.
"The Fed has essentially achieved its objectives concerning inflation and unemployment," added non-voting 'hawk' James Bullard of the St.Louis Fed yesterday in
a speech at George Washington University
in Washington, DC.
"Now may be a good time," Bullard concluded, "for the FOMC to begin to consider allowing the [$4.5 trillion] balance sheet to normalize by ending reinvestment" of its QE money creation program, started in 2008 to buy Treasury bonds and mortgage-backed securities in a bid to raise their price and so push longer-term interest rates down.
Euro and Sterling gold prices held firmer than for Dollar investors, but bond prices followed Treasuries lower, pushing interest rates higher. 
"Core European [bond] yields are deep in negative territory," notes bullion clearing bank ICBC Standard's Tom Kendall, "and real yields [accounting for inflation] look even worse.
"So it would not be a surprise if European investors were increasing their allocations to gold."
Also warning on the
'Ides of March'
 for 2017, Butler at Mitsubishi points to how the Fed's looming rates decision of March 15 will coincide with the Dutch general election, currently seen with anti-Euro nationalist Geert wilders in the lead.
"If the populist right-wing Freedom party wins the biggest share of the vote," says Butler, "this could create pressure for the Netherlands to leave the EU…support[ing] gold as a safe haven,
just as the Brexit vote did
."
Tracking this morning's latest data from Japan, both Eurozone and UK manufacturing surveys today missed analysts' PMI forecasts for February, also retreating slightly from January.