GOLD PRICES held at $1280 per ounce in London dealing as US voters went to the polls Tuesday to choose between Donald Trump and Hillary Clinton, trading above the moving average of the metal's last 200 days – a key level according to technical chart analysts.
World stock markets held dead-flat after Monday's 2.5% surge from a record 9 days of losses in the US S&P500 index.
Government bonds also froze, holding interest rates unchanges in quiet trade, while commodity prices slipped again but silver held firmer, trading at $18.29 per ounce.
Shanghai gold prices
slipped again
, retreating 1% from Friday's 6-week high against the Yuan as the Dollar consolidated the last 3 sessions' strong recovery on the FX market.
"Support is at $1278.40 – [the] 200-day moving average," says a technical
analysis of gold price charts
from strategist Russell Browne at Canada-based investment and bullion bank Scotia.
"Momentum and [other] indicators have weakened but still remain bullish. I am biased to the upside as long as gold closes above the 200-day MA."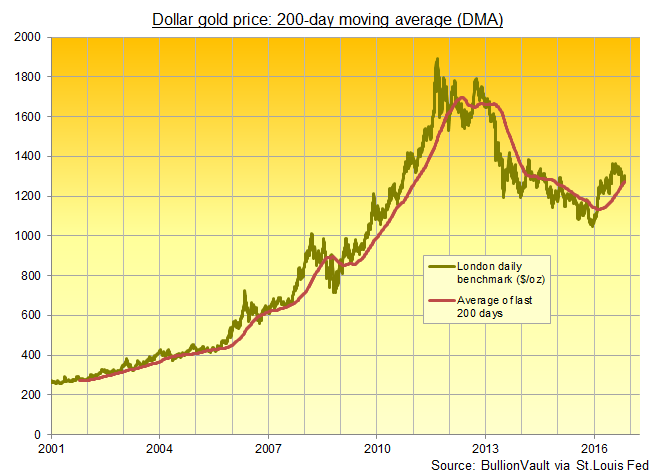 "It felt like the
calm before the storm
during Asian trade today," says the Australian precious metals trading desk of Swiss refining and finance group MKS, also pointing to gold's 200-day moving average just below $1280 per ounce for immediate technical support.
"We expect muted price action to continue leading into the first poll results. Should Hillary Clinton pull away from Trump, expectations are that $1250 should be supportive for the yellow metal, even more so considering Monday's weakness having already removed some of the fast money from the market.
"Conversely, should Trump outpace Clinton we expect to see the post-Brexit high of $1375 directly in the firing line."
"Gold [in October] tested support zone of $1250/1236," said a chart note Monday from French investment bank and bullion market maker
Societe Generale
's head of technical analysis Stéphanie Aymes, pointing to what was then "the confluence of the 200-day MA and multi-month [2016 upwards] channel."
Having now "staged a rebound towards crucial graphical resistance of $1307," says SocGen, "short term [the gold price] is forming a probable double top.
"A move below $1283 will confirm a down move… towards even $1266 [where SocGen pegs the 200-dma]. This will be pivotal support."
Looking beyond Tuesday's vote and Wednesday's result in the Trump-Clinton race for the White House, "Through the US election volatility, we expect that
market participants will refocus
on the likelihood of a December hike (very high at this point) but more importantly the evolution of interest rates next year," says a note from Canadian-based TD Securities.
"For now, we still expect that despite a December hike, the Fed will be increasingly conservative next year and leave rates at very accommodative levels."