GOLD PRICES erased last week's 1.7% gain versus the Dollar on Tuesday in London as the US stock market opened at a new all-time record high following a UN agreement on new sanctions against North Korea over its nuclear weapons tests.
Dollar gold prices traded $30 per ounce below Friday's 12-month high of $1356 and major government bond prices also fell, pushing 10-year US yields up towards 3-week highs at 2.17%.
World stock markets had already pushed higher after setting
a fresh record high on Monday
, while the Euro fell again, losing over 1.5 cents from last week's new 32-month highs just shy of $1.21.
That supported the gold price for Eurozone investors just 1.5% below last week's 2-month highs.
The Chinese Yuan meantime fell 1.6% from its jump to 2-year highs, helping buoy the premium offered for new bullion imports into the world's No.1 gold consumer nation at $6 per ounce.
Twice the Shanghai premium offered last week, that was still one third smaller than the average.
"[Stock markets are being] buoyed by a tempering of tensions on the Korean peninsula and a downgraded Hurricane Irma," says a trading note from Swiss refining and finance group MKS Pamp.
"This is clearly a relief for market participants and is generating higher risk appetite."
"If I'm more confident about the outlook," says fund giant Fidelity's UK multi-asset manager Nick Peters, "especially over the next 3 months, it
makes sense to reduce
the more defensive positions [such as] fixed-income and gold."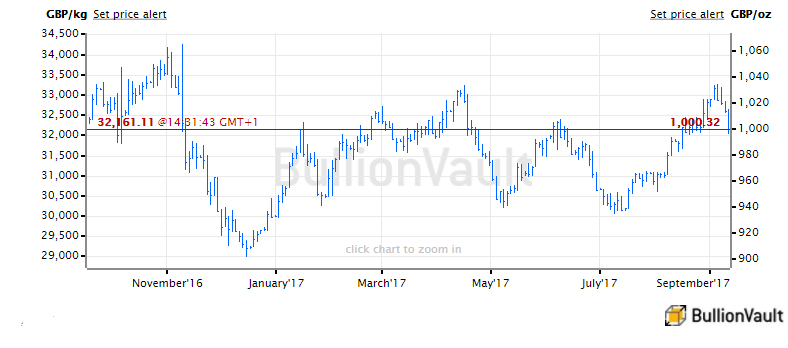 The
UK gold price in Pounds per ounce today
sank to dip below £1,000 per ounce – a 1-month low almost 4% below last week's 10-month peak – as the British Pound rose to its strongest so far in 2017 on the FX markets following new inflation data.
The Bank of England next decides this Thursday on UK interest rates, cut last year to a fresh record low of 0.25% after the
Brexit referendum shock
, when new QE money creation also took the central bank's holdings of government debt to £435 billion ($575bn) – equal to more than one-fifth of the UK's annual GDP.
Separately the UK Government of former Home Secretary, now prime minister Theresa May, said Tuesday it is removing the 1% per year public-sector pay cap, but
only for police and prison staff
.
Trade union Unite's leader Len McCluskey says he's willing to
"go outside the law"
to call for mass action by other public-sector workers without getting 50% turn-out in a strike ballot.
Brent crude oil meantime pushed up towards last week's 5-month highs above $54 per barrel Tuesday amid news of
falling output from Opec
cartel member states.
US-based campaign group Human Rights Watch today said the Saudi-led coalition supporting the Yemen government against Houthi rebels has carried out
5 unlawful airstrikes killing 39 civilians
, including 26 children, over the last 2 months.
Last weekend saw 31-year-old Crown Prince Mohammed bin Salman – now first in line to the throne after what analysts are widely calling
a palace coup
at the end of Eid in June –
suspend talks with Qatar
, isolated by its Arab neighbors since start-June over funding terrorism.