GOLD PRICES fell again in London on Tuesday, hitting new Dollar lows for 2018 and extending this week's drop to $15 per ounce after the largest exchange-traded gold fund shrank to its smallest size in 10 months.
Major Asian and European stock markets rallied from Monday's sharp sell-off, but held up to 5% lower for June to date.
US President Donald Trump meantime
continued attacking Harley Davidson
 (NYSE:HOG), the US motorbike brand, threatening to tax it "like never before" if it moves more production overseas to try and reduce the impact of tit-for-tat foreign retaliation for his new US import tariffs.
"Rising trade tensions should have – but did not – help gold's cause," reckons brokerage," INTL FCStone's analyst Edward Meir.
"Instead, it seems that the concern of rising interest rates, particularly in the US,
continues to gnaw away at gold
, as does the fact that the fund length is fleeing."
Longer-term US interest rates today fell to new June lows as bond prices rose again and 
10-year Treasury yields
retreated to 2.87% per annum.
Latest data from US regulator the CFTC said Friday that last week saw hedge funds and other speculative traders cut their bullish bets 11% as a group and grow their bearish bets by 60% on Comex gold futures and options.
That shrank the net long speculative position among all Managed Money traders to the notional equivalent of 73 tonnes – its smallest size since the gold price began recovering from 6-year lows in January 2016.
Using the CFTC data available since 2006, analysis by BullionVault shows that when the Managed Money's net long position has fallen below 100 tonnes equivalent in the past, the gold price has traded higher 12 months later all but once (Dec' 2013), averaging a gain of 15.4% in US Dollar terms.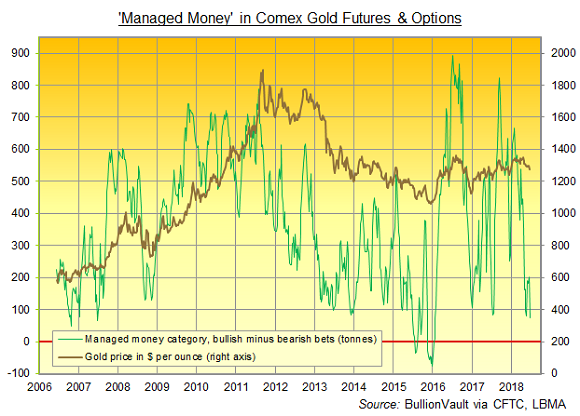 The giant SPDR Gold Trust (NYSEArca:GLD) yesterday shrank by 0.5% as investors sold out, needing 820 tonnes of backing – the smallest quantity since August last year and just three-fifths the peak holding of end-2012.
Silver's largest ETF also saw a net outflow as metal prices fell Monday – a rare move on a falling price – but that left the iShares Silver Trust (NYSEArca:SLV) still within 1% of start-June's six-month record at 9.933 tonnes.
Silver prices today fell to $16.16 per ounce – just 10 cents above 2018's current low from 1st May – as gold bullion dropped to $1255.
"Investors are covering margin calls on the equity markets and other falling markets," reckoned US wholesaler Dillon Gage's Walter Pehowich on Monday, speaking to Reuters.
World stock markets rallied sharply however from Monday's drop as gold continued to fall Tuesday.
On the currency markets today, China's Yuan fell to new 6-month lows versus the Dollar.
That squashed the Shanghai premium back down to $4.80 per ounce, barely half the gross incentive for new imports of bullion out of the global trading hub of London into the No.1 consumer nation.
India's Rupee meantime fell back towards its historic low versus the Dollar hit in 2013, twice in 2016, and again twice so far this month.
Together with what dealers called poor demand among jewellers and households, that held wholesale bullion prices in India at $2 discount after accounting for the No.2 consumer's 10% import duty.
Tuesday's drop in gold bullion prices was also smaller in Euro and Sterling terms than for US Dollar investors, pulling the metal down to 3-month and 9-week lows respectively.