GOLD PRICES dipped below $1230 per ounce Wednesday in London, retreating over $10 per ounce from yesterday's new 3-month highs as European stock markets rallied but Wall Street futures pointed lower yet again.
With the S&P500 now down more than 7% from mid-September's record peak, "To me
the Fed is the biggest risk
, because I think interest rates are being raised too quickly," said US President Donald Trump to the Wall Street Journal in an interview published last night.
Adding that the US central bank should be independent "in theory", Trump said "I have a hot economy going.
"[But] every time we do something great, [Fed chair Jerome Powell] raises the interest rates…[He] almost looks like he's happy raising interest rates.
"Obama – remember this, it's very important – Obama had zero interest."
Asked if he regretted nominating Powell for the job – starting this February and running until at least 2022 – "Too early to say, but maybe," said Trump.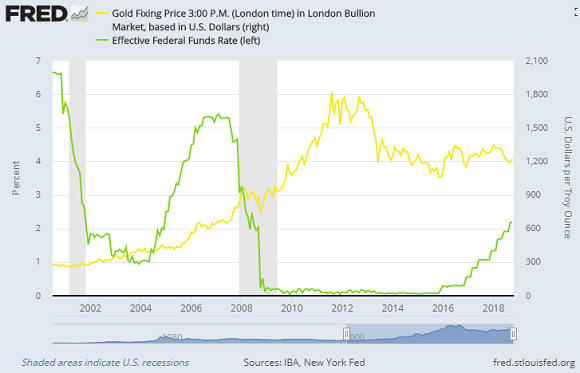 Crude oil meantime extended Tuesday's 4% drop to 7-week lows today after Saudi Arabia – widely condemned for
"the worst cover-up ever"
over the torture and murder of a US-based journalist at its consulate in Istanbul – promised to play
a "constructive and responsible role"
in stabilizing prices by increasing its output.
Washington's impending sanctions against No.5 oil producer Iran are
"unilateral" says Turkish foreign minister
Mevlut Çavuşoğlu, telling the White House it "[must] consult especially with the countries of the region" before extending sanctions to states which continue to trade with Tehran after next week's 1 November deadline.
Shanghai's
benchmark gold fixing
today hit ¥276 per gram, the highest price since 25 January and 5.7% above mid-August's 20-month low.
"The SGE premium for onshore traders [versus London quotes] opened around $7.00-8.00," says the trading desk at Swiss refining and finance group MKS Pamp, "which was quite healthy and prompted some demand from Chinese banks and investors."
Euro gold prices meantime held near €1080 per ounce – up 6.4% from this time last month, when the metal fell to its lowest level in the single currency since January 2016 – as Italy's deputy prime minister Matteo Salvini rejected the European Commission's rejection of Rome's 2019 budget plans, the first-ever such rebuke from Brussels for a member state's national government.
"Italians come first…Italy
no longer wants to be a servant
to silly rules," said Salvini, right-wing Lega Party partner with the left-wing M5s Party in Rome's ruling coalition.
The UK gold price in Pounds per ounce
held at £950, up 5.8% inside 3 weeks, as Prime Minister Theresa May told lawmakers that a Brexit deal with the European Union is
now 95% complete
, urging rebel MPs in her Conservative Party to back her in "the very last stages of the talks".