GOLD MINING stocks rose with bullion prices in London trade Tuesday, gaining as the 19-nation Eurozone reported weaker-than-forecast GDP growth but the United States' latest inflation data beat expectations.
Economic growth in the single-currency Eurozone slowed at the end of 2016 to 1.7%, the
Eurostat agency said
this morning, outpaced by the wider European Union's 1.8% growth.
Gold priced in the US Dollar recovered all of yesterday's 1.1% drop, rallying back to $1233 per ounce at lunchtime in London.
Silver rose faster, breaking above $18 per ounce for the first time since early November.
Raw materials prices also rallied from Monday's sharp drop, but agricultural commodities extended their fall, with cocoa marking Valentine's Day with a new 10-year low, down over 40% from this time last year as
analysts forecast a bumper crop
on top of already plentiful stockpiles.
Base-metal copper has meantime made its fastest New Year gains in a half-decade
on lower output from giant miners
Freeport-McMoRan (NYSE:FCX) and BHP Billiton (LON:BLT) – faced with problems over licensing permits at Grasberg in Indonesia and workers striking at Chile's Escondida project respectively.
Amongst major gold mining producers, world No.1 Barrick (NYSE:ABX) and No.3 GoldCorp (NYSE:GG) will report quarterly output and earnings on Wednesday, with No.2 Newmont (NYSE:NEM) reporting next week.
Global gold mining output slipped 1.5% last year from 2015's record, according to estimates from specialist analysts Thomson Reuters GFMS, but held flat on data from the mining-backed World Gold Council.
"Despite the need for strategic reserve levels to be maintained, the project pipeline is considerably thinner and exploration budgets were cut in recent years."
Gold mining stocks have underperformed the gold price, as well as proxy vehicles such as the SPDR Gold Trust (NYSEArca:GLD), by a widening margin over the last 10 years.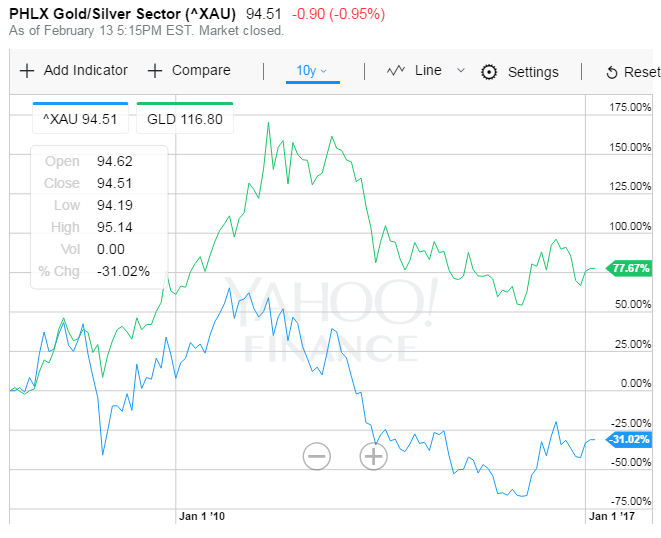 Gold mining's capital spending will likely rise in 2017, said ratings agency Moody's before Christmas, pointing to higher gold prices, lower costs and
rising profits combining to "boost
[the sector's] credit quality" and enable new borrowing.
"As gold is priced in US dollars, a stronger Dollar has benefited miners based outside of the US," it added.
After mergers and acquisitions in gold mining stocks
crashed from 2010's $22 billion peak
to recover to $9.5bn in 2015 on data from SNL Metals & Mining, "I think we're right on the cusp now," Bloomberg last week quoted Neal Froneman, CEO of 1.5-million ounce South African miner Sibanye Gold Limited (JSE:SGL).
Now planning to become a top 5 world gold miner, Sibanye said Monday it has
raised US$2.6bn in bridging loans
to support its own acquisition of US platinum producer Stillwater (NYSE:SWC).
London-listed Southern Africa gold miner Randgold Resources (LON:RRS) today reversed Monday's loss with a 1.2% gain, taking it back towards last week's 3-month high.