GOLD MINING stocks slipped as bullion prices fell to 3-week lows in London on Wednesday, while broader equities rose globally and the Euro fell ahead of tomorrow's European Central Bank decision on QE and negative rates for the 19-nation single currency zone.
Gold mining stocks retreated after earnings season began with a raft of strong results from non-US producers, with executives vowing to keep increasing output.
Gold priced in the US Dollar dropped below $1320 per ounce in wholesale trade, and slipped beneath €1200 for Euro investors – a 3-year high when first reached on the UK's Brexit referendum result on leaving the European Union in June.
Turkey's central bank has meantime "stepped in very effectively to provide liquidity" to local financial markets since the weekend's failed apparent coup attempt in Ankara and Istanbul, said IMF chief economist Maury Obstfeld last night.
The US Dollar today pushed the Euro down near 1-month lows beneath $1.10 ahead of Thursday's ECB decision and press conference.
"The strong rally in gold [so far in 2016] is symptomatic of
a world beset by uncertainty
," says South African investment bank Investec's Hunter Hillcoat.
"With approximately one quarter of all government bonds having negative yields, a non-interest bearing asset class appears increasingly attractive…Gold therefore remains our favoured commodity exposure in these challenging and uncertain times."
"Despite strong recent gains," writes Tocqueville gold-mining stock fund manager John Hathaway, "we believe that the current alignment of politcal and economic factors is
unusually compelling
.
"In our view, substantal gains lie ahead."
"The overall trend is up," says Bill Beament, managing director at Australian gold miner Northern Star Resources Ltd (ASX:NST), reporting
full-year output at the top end
of its half-million-ounce forecast range, "because of what's happening with the…economies around the world."
Priced in the Australian Dollar, gold bullion ended its slump from the 2011 peaks in spring 2013, rising 15% by the start of 2016 and now setting new all-time highs after the UK's Brexit referendum result.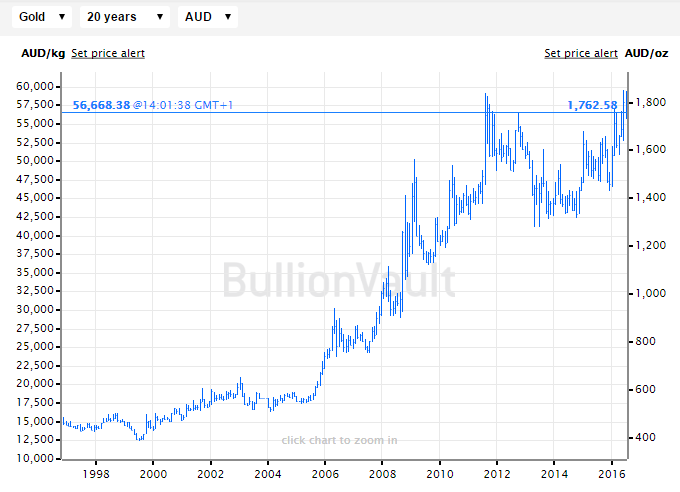 Northern Star's stock price has almost doubled in 2016 to date, and nearly trebled in the last 12 months.
"With gold prices posting the best first half in almost four decades," says Canada's
Financial Post
, "the coming round of earnings reports may provide signs
miners are preparing to ease their collective death grip on spending
…[after] deferring projects, curtailing operations and otherwise slashing costs and debt as prices declined for three years in a row."
"Scattered producer hedging by non-US companies continues," says the latest precious metals analysis from China's ICBC Standard Bank team in London, pointing to metal borrowing and sales by mining producers to lock in current prices.
Silver prices doubled today's 1.4% drop in gold, retreating near 2-week lows at $19.50 per ounce.
Shares in Fresnillo have almost trebled so far this year, but dropped 4.5% by early afternoon Wednesday.