GOLD MINING shares rose as the broader stock market rallied Tuesday while the rise in US bond yields paused with 10-year rates just shy of 3%.
Gold bullion prices
bounced $5 per ounce from yesterday's 2-week low, touching $1328 as London opened for business.
That left gold little changed around last Friday's finish in non-US currency terms as the Dollar joined bond yields and paused its rise of the last week on the FX market.
Silver and platinum kept all of Monday's 2.7% and 1.0% drops respectively, trading back at $16.65 and $918 per ounce.
Palladium also failed to bounce after sinking over 6% yesterday amid reports that
Washington may ease US sanctions
over the metal against its No.1 miner, Russia.
The FTSE Gold Mines index meantime edged higher after the world's largest stockmarket-listed gold miner reported a 5% rise in first-quarter earnings despite a 20% drop in gold ounces mined.
Announcing suspension of a "prefeasibility study" on the Andes mountain project at Pascua-Lama – expected to produce 125 tonnes over its first 5 years but
shut since 2013
by environmental orders from the government of Chile – Barrick said its
all-in sustaining costs rose 4.1% in January-March
from the same period of 2017 to reach $804 per ounce.
Bullion market prices rose 9.0% year-on-year in Q1 to average $1329.
Barrick's full-year guidance remains for maximum output of 155 tonnes in 2018, a further 6% drop after 2017's fall of 4%.
Total debt has meantime halved to $6.4 billion from the peak of 2012-2013, and "Barrick does not intend to sell further assets for the purposes of debt repayment," the company said Monday.
"Proceeds from any future portfolio optimization will be used to enhance our project pipeline, or returned to shareholders."
At the top of gold's bull run in 2012, ABX paid a dividend of 75 cents per share, offering a yield of some 1.6% to that year's opening price.
Last year it paid 12 cents per share, a yield on 2017's opening price of 0.5%.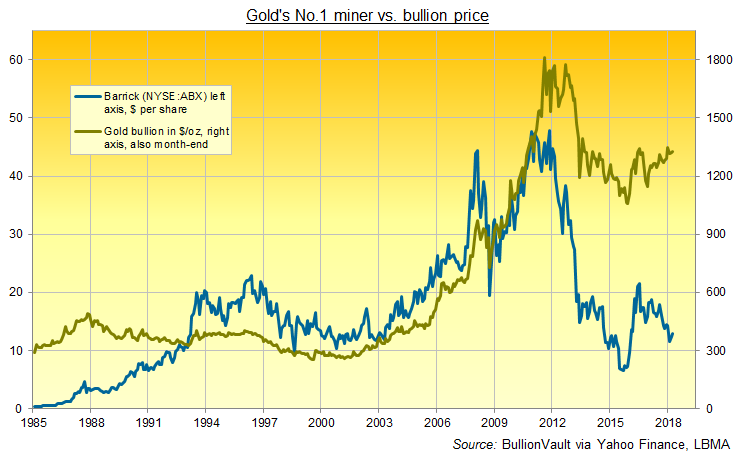 Barrick's stock fell 1.8% on Monday, dropping to 1-week lows.
First quarter results are due from No.4 gold miner Goldcorp (NYSE:GG) on Wednesday, No.2 Newmont (NYSE:NEM) on Thursday, and No.3 Anglogold Ashanti (JSE:ANG) in early May.