GOLD PRICES leapt against non-US currencies on Wednesday, erasing last week's drop for Dollar investors and setting a new all-time high above platinum as the US-China trade war intensified, whacking world stock markets once more.
As Wall Street futures pointed sharply lower, led by US automakers after China announced retaliatory tariffs following the Trump White House's latest move on trade, the gold price in Dollars erased the final $2 of last week's $20 loss, touched $1347 per ounce.
Gold rose faster still for non-US investors however as the Dollar rallied on the FX market, jumping to €1097 per ounce for Euro investors – its highest level since late-January – with a 2.0% rise for the week so far.
Silver prices fell back against the Dollar however, cutting this weel's rally to 0.7% at $16.48 per ounce.
That took the Gold/Silver Ratio up to 81.6 by lunchtime in London, the highest reading for gold's value relative to silver since March 2016 and less than 3% below the highest reading of the last two decades. 
That was set at 83.8 amid the financial chaos immediately after the collapse of Lehman Brothers in autumn 2008.
Gold's gain on Wednesday also pushed its premium over the price of platinum to a new modern record at $422 per ounce.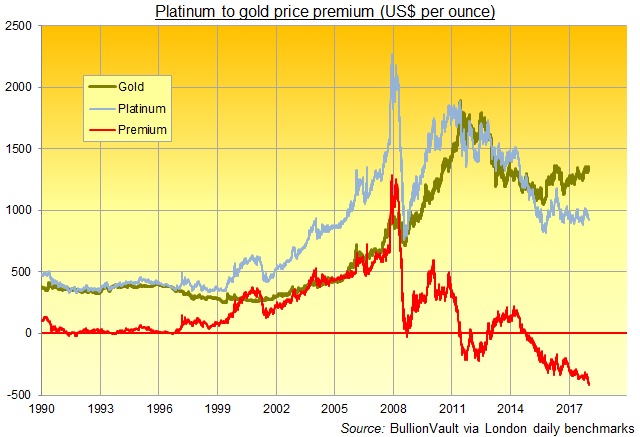 Today finding 40% of its end-use in catalysts to reduce harmful emissions from diesel engines, platinum traded above gold throughout the 20th Century, averaging a premium of $205 per ounce in the 25 years to 2015.
Since then however,
platinum prices
have fallen to average a discount of $235 below gold.
Over in Beijing on Wednesday, the government of China said it's planning to hike import tariffs on 106 goods from the US, retaliating over President Donald
Trump's new plans
for a 25% tariff on more than 1,000 Chinese goods unveiled overnight.
We are not in a trade war with China, that war was lost many years ago by the foolish, or incompetent, people who represented the U.S. Now we have a Trade Deficit of $500 Billion a year, with Intellectual Property Theft of another $300 Billion. We cannot let this continue!

— Donald J. Trump (@realDonaldTrump) April 4, 2018
After the US stock market ended Tuesday with only its fifth gain of the last 15 sessions, Asian stock markets held flat overall, with Japan's Topix closing 2.5% above last week's 6-month low.
European equities then fell however, knocking 1.0% off the Stoxx 600 index to fall back near last Wednesday's 14-month low.
New data today said unemployment in the 19-nation Eurozone fell last month to a new 9-year low, but 'core' inflation in consumer prices, excluding fuel and food, slowed to just 1.0% per annum.
March's job creation in the United States meantime beat analyst forecasts on Wednesday's private-sector ADP Payrolls' estimate.