GOLD PRICES outran silver for a second day running in London on Tuesday, hitting new 3-month highs in Dollars and also Euros as worries spread of a return of the Greek debt crisis. 
Silver failed to match an overnight return to yesterday's new 12-week highs at $17.76 per ounce, but gold touched $1236 before edging back.
European stock markets shrugged off yesterday's dip on Wall Street, but Asian equity indices closed mostly lower.
Shanghai gold prices rose to new 3-month Yuan highs on Tuesday as volumes continued to increase after last week's return from the new Year of the Rooster holidays, holding their premium above London quotes at $8.50 per ounce.
That's markedly above the incentive for new bullion imports offered immediately after the last two
Chinese New Year holidays
.
"Gold closed above the 100-day Moving Average," says a technical analysis of the Dollar price from bullion
market maker ScotiaBank
's New York office, now seeing "support" at $1205 per ounce.
"I am biased to the upside as gold appears poised to target the 200-day MA [now] at $1263."
More bullish still are silver prices, says London bullion market-maker Societe Generale's technical analysis team, saying that the cheaper metal has followed late-2016's "steady correction" by making "a rebound.
"[Silver] has crossed above a multi-month descending channel [from July's peak and now coming in] at $17.30 [where] immediate downside should be cushioned…
"Next objective for the up move will be at $18.40…the lows of last August."
In contrast, cash-paid positions in the giant metal-backed
iShares Silver Trust
(NYSEArca:SLV) held unchanged overall yet again yesterday, remaining at the 7-month low reached last week.
With Comex gold positioning growing but markedly lighter than silver, top gold ETF the SPDR Gold Trust (NYSEArca:GLD) grew its bullion holdings for the fourth session running on Monday, needing another 4 tonnes to back its shares at a fresh 2017 high of 818 tonnes.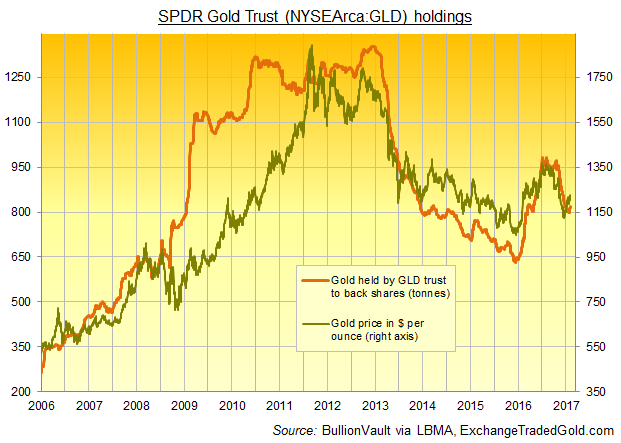 The GLD last expanded for 4 days running just ahead of June 2016's UK referendum on leaving the European Union.
Today marks the 25th anniversary of the European Union's Maastricht Treaty, celebrated by the European Central Bank in a tweet as
"paving the way for the Euro"
.
Signed on 7 February 1992, and seeking to establish economic and monetary union as well as common foreign and security policy, the Maastricht Treaty was rejected by Danish voters that spring, and only narrowly backed by French voters later that year.
September 1992 then saw the UK forced out of the Exchange Rate Mechanism – the Euro currency's pre-cursor – as the Pound crashed from its peg to the German Deutsche Mark amid high inflation and weak growth.
Greece now wants "inclusion in the [ECB's] quantitative easing program," said an Athens' spokesman today, rejecting what he called the International Monetary Fund's
"illogical" position on renewing
its bail-out program with Greece's Eurozone partners only if the country's total debt is reduced.
British Pound gold prices meantime jumped towards £1000 per ounce as Sterling sank on the FX market following much
weaker-than-expected house price
data from the Halifax mortgage lender.