GOLD INVESTING prices bounced to $1227 per ounce in London trade Friday lunchtime, regaining a quarter of their sharp Dollar losses after President Trump promised a "phenomenal" cut to business tax rates by the end of this month.
The Dollar rose Friday to a new February high versus the Euro on the forex market, but commodity prices rose faster, taking the
UBS Bloomberg CMCI index
0.6% higher to a new 19-month peak.
European stock markets failed to rise following Wall Street's overnight close at new record highs, but Asian equities rose as the White House also said Trump yesterday held a "cordial" phone conversation with China's President Xi, and
agreed to honor
the United States' recognition of Beijing 'One China' ambitions towards Taiwan.
Rallying from a low of $1221 per ounce – some 1.8% beneath this week's new 3-month highs – large gold investing and wholesale bars headed for their highest Friday finish since 11 November, immediately after Trump's victory in the US election.
Silver meantime cut its weekly gain by two-thirds to 0.7% at $17.62, also heading for its highest Friday close in 3 months.
"The positive correlation across all [precious] metals has been very strong for the past month," says a new note from Chinese-owned bullion, forex and commodities market maker ICBC Standard Bank's bullion strategist Tom Kendall.
"[So too] has the inverse correlation with the Dollar."
Should the Trump administration now reveal its fiscal stimulus plans, the ICBC note says, "we would expect the Dollar to rally much harder and for gold to quickly fall back below $1200.
New gold investing through ETF proxies – led by the giant SPDR Gold Trust (NYSEArca:GLD ) – yesterday paused for the first time in over a week as the metal's price fell from $1244 per ounce.
Vaulting metal to back the
ETF's gold investing exposure
at bullion-bank HSBC in London, the GLD grew 28% by size in 2016, adding 180 tonnes of metal.
Net of outflows however, 2016's full-year imports to London – centre of the world's wholesale and gold investing trade – totalled 1,046 tonnes according to new data published by the UK tax authorities Friday.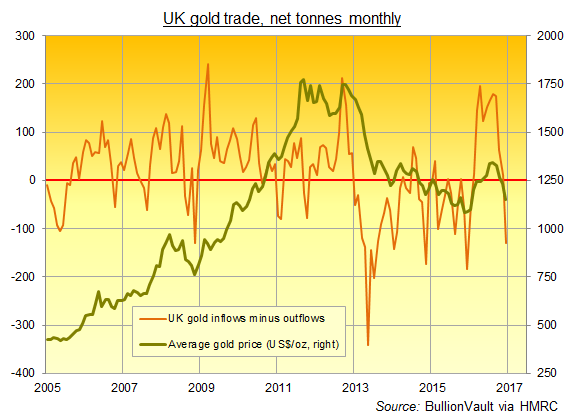 Reversing more than two-fifths of the previous 3 years' net outflows for 2016 as a whole, London's gold imports reversed sharply as bullion prices sank 7% in December following Trump's win and the US Federal Reserve's 0.25 percentage point
hike to Dollar interest rates
.
Excluding oil and other 'erratic' items such as gold, the UK's overall 
deficit on goods "continued to widen
in each quarter in 2016," the Office for National Statistics said today, "because the import values increased more than exports" as the Pound sank on the currency market ahead and then after June's Brexit referendum on the UK leaving the European Union.