GOLD PRICES held above $1300 per ounce in London trade Friday, erasing half of last week's 2% drop even as the Dollar rose again on the FX market amid fresh tensions between Nato members Turkey and the US plus growing doubts over the debt stability of Italy, the Eurozone's third largest economy.
Euro gold prices set fresh 8-month highs above €1117 per ounce as 'safe haven' German Bund prices rose yet again, driving the interest rate on 10-year Bunds down to half the 2.5-year high reached in February.
Italian bond prices fell in contrast, driving the spread above 10-year German Bund yields to
more than two percentage points
, as new prime minister Giuseppe Conte met for 90 minutes with the Italian central bank governor Ignazio Visco to "talk about the state of the Italian economy."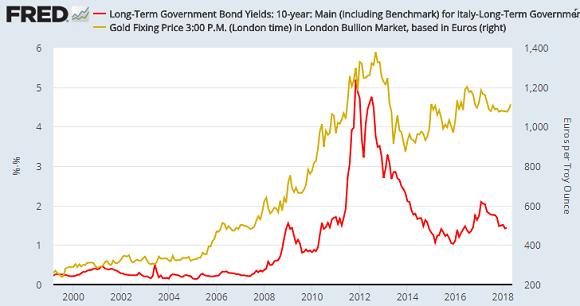 Gold prices in Turkey – the No.5 consumer nation, and one of the
keenest for buying gold coins
– meantime rose Friday to new all-time highs as the Lira hit new all-time lows ahead of next month's snap election, called by current president Recep Tayyip Erdoğan to confirm the sweeping executive powers
approved by a 51:49 majority
in a referendum last year.
Washington will stop fellow Nato member Turkey buying Lockheed Martin F-35 jet fighters –
due for delivery
on 21 June –
unless Ankara halts a plan
to buy S-400 air-defense missiles from Russia, a Senate Committee said this week.
"These are different issues," a spokesman for Turkey's ministry of defense said today. If the block goes ahead, "we will have to respond."
Contrasting Italy with other Eurozone nation's hit by the debt crisis and banking bail-outs of 2007-2013, today's real news, tweeted one Italian bond dealer on Friday, is that Italy's bond spread over Spanish 10-year debt "is at levels (103bps)
last seen in December 2011
. 
"Spread to Portugal looks even more extreme, at 53 [basis points]."
Gold priced in British Pounds also rose Friday, coming within £3 per ounce of a 7-month high at £979 as the FTSE100 index of London-listed shares rose within 2% of Tuesday's new all-time record high and UK bond prices also rose, pushing longer-term UK interest rates lower.
Falling to 1.36% on Friday morning, the 10-year Gilt yield hit a two-year high of 1.67% in February, but has now
breached its uptrend from July 2016
's all-time record low of 0.52% – hit immediately after the UK's shock Brexit referendum result.
Trading volumes in Gilt futures contracts yesterday
set a new record high
said exchange and clearing house ICE today, jumping almost 6 times above 2018's daily average to date – itself 18% higher from the first five months of 2017.
Back in Turkey, the ruling AKP Party will, if re-elected on 24 June,
shut down the government department
dedicated to European Union relations, moving its work to the Foreign Ministry.
The dean of Istanbul's Cerrahpaşa Faculty of Medicine was today dismissed from his post after welcoming a visit by Muharrem İnce, the main opposition CHP party's presidential candidate.
A court in Manhattan last week sentenced Turkish banker Mehmet Hakan
Atilla to 32 months in prison
for busting US sanctions against Iran with gold shipments in a case which heard senior Ankara officials and politicians were involved, including now-president Recep Tayyip Erdoğan.
"[Turkey's] central bank certainly has been more active in the gold market,"
Bloomberg today quotes
Australian finance group Macquaries metals analyst Matthew Turner, commenting on data showing that
Ankara withdrew almost 28 tonnes of gold
from custody at the US Federal Reserve in 2017, moving it to the Bank of England, BIS, and domestic storage.
"It seems the government would like a larger share of its reserves in assets that's not related to the US Dollar."