GOLD PRICES held near this week's new multi-month highs on Friday in London as equities fell yet again amid fresh political turmoil in the Trump White House and new fears over GDP growth in China, the world's second largest economy.
With global stock markets falling for the 9th time in 15 sessions this month, gold priced in Dollars traded $20 higher for the week and $40 per ounce higher for December so far, holding at $1260 after new US data said the No.1 economy expanded by 3.4% annually between July and September.
Among major share indexes only Hong Kong's Hang Seng avoided a loss, with mainland China's CSI 300 extending its 2018 drop to more than 25% despite promises of "much larger scale" fiscal and monetary stimulus from this week's annual Central Economic Working Conference in Beijing.
For the world's No.1 gold mining, importing and consumer nation, that would be the slowest rate of economic expansion since the global recession of 1990.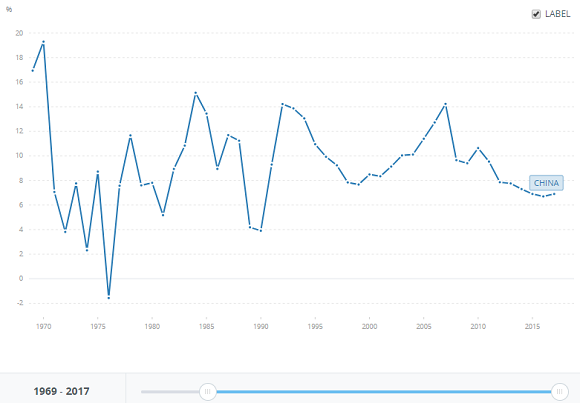 With China and the US set to impose harsh trade tariffs on each other exports if no deal is reached by the end of the current 90-day suspension, "The world is
facing a major change
," says Beijing's state-run news agency Xinhua "the likes of which has not been seen in a century, and which includes both risks and opportunities."
Marking
40 years of "opening up"
since Deng Xiaoping began China's economic reforms at 1978's Third Plenum of the 11th Central Committee, a 90-minute speech from current president Xi Jinping "mentioned the word 'party' 128 times," notes the
South China Morning Post
, "compared with just 87 times for 'reform' and
67 for 'opening up'
.
"We will resolutely reform what should and can be reformed, and make no change where there should not and can not be any reform," he said, reiterating the policy of "socialism with Chinese characteristics".
"It is clear that China and Russia…want to shape a world consistent with their authoritarian model," says US Secretary of Defense James Mattis in a letter of resignation to President Trump, accusing the White House of failng to treat US allies with respect while turning a blind eye to "
malign actors and strategic competitors
".
China's government was
today blamed by the US
, UK, Australia and other governments of a cyber attack, apparently aimed at stealing commercial secrets, for which two Chinese nationals were indicted yesterday.
Former Nato Supreme Allied Commander, Mattis resigned overnight after Trump signalled that – on the 30th anniversary of the Lockerbie bombing, when terrorists killed 259 mostly US airline passengers and 11 residents of the small Scottish town – he would announce pulling US troops out of Afghanistan.
Heading into London's Friday afternoon benchmarking auction, gold bullion was on track for its highest weekly close since mid-June in both Dollar and Euro terms, and since September 2017 in British Pounds and Chinese Yuan.