GOLD BULLION
fell through its $1200 floor of the last 9 months Wednesday lunchtime in London, losing 2.4% before steadying just above $1180 per ounce – the bottom of its 2013 price crash – as the biggest jump in 2 years in reported US orders for durable goods saw the Dollar
hit fresh 13-year highs
on the currency market.
European stock markets cut their earlier losses as US equities held just shy of new record highs. Commodities also regained a drop – with crude oil reversing a 1% fall – after the Census Bureau said
orders for 'white goods'
such as freezers and washing machines jumped 4.8% last month from September, the fastest rise since summer 2014.
Sales of new homes
fell however to a 4-month low
, separate figures showed. Last week's claims for US jobless benefits rose ahead of Wall Street forecasts.
All major government bond prices fell meantime, driving 10-year US Treasury yields up to 2.41%, a new 2016 high, as the Euro currency fell to new 2016 lows near $1.05 on the FX market.
That curbed the drop in Euro gold prices to a 6-week low, down 1.9% for the day at €1122 per ounce.
But priced in Dollars gold fell as low as $1182 per ounce – some $30 down from the start of London bullion trading – just near its 'double bottom' at $1180 of
the 2013 crash
, when bullion suffered its worst drop in three decades.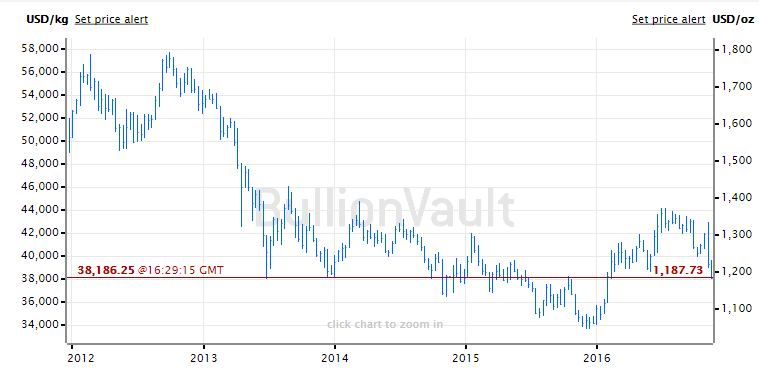 Silver fell slightly less, cutting its 2016 gain to 19% at $16.40 per ounce – down from a two-year high above $21 in early July.
"Gold has arguably done well to hold on to the $1200 level," said a note from bullion clearing bank ICBC Standard's Tom Kendall earlier – "admittedly by its fingertips."
But with all financial markets likely to see lower trading volumes ahead of the US Thanksgiving holiday tomorrow, "If you were inclined to test [that level], the reduced liquidity with US traders absent would be an obvious opportunity.
"It really does depend on the Dollar…and that big figure for gold may be tested before the turkeys are cooked."
"Momentum and [moving average] indicators are bearish," said Tuesday night's technical analysis from fellow London bullion bank Scotia, "and risk remains to the downside."